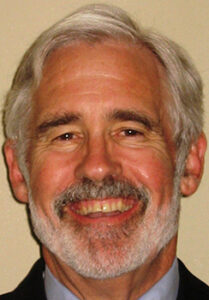 As a lifelong football fan, attorney Richard Lister always wondered why no one had ever written a third-person account of NFL referees. "I was curious about their dual lives; regular working folks Monday through Friday, then in a glaring spotlight Sunday," said Lister. "I guess I was of a similar mind to Toni Morrison. If I wanted to read a book that hadn't been written, why couldn't I write it?"
Why indeed. Lister wrote and independently published The Third Team: NFL Officials – Their Lives, Their Stories. One thing led to another, and he met and collaborated with Howard Mudd, an NFL All-Decade player and renowned offensive line coach, to draft a proposal for a book about the offensive line. That proposal is what Lister brought to the 2015 SDSU Writers' Conference.
Among his scheduled appointments was a consultation with Sarah Younger, an agent with Nancy Yost Literary Agency. A consultation is a Q&A opportunity to pitch a project and discuss its viability in the marketplace. Conference attendees also have the option of scheduling an advance reading, which requires submitting the first 10 pages of a manuscript prior to the conference. The SDSU Writers' Conference was among the first to pioneer these 1:1 appointments with agents and editors, giving writers unprecedented access to top-tier publishing professionals — many of whom interact with unpublished authors only through conferences.
Younger, also a zealous football fan, immediately loved the project.
The View From the O-Line: Football According to NFL Offensive Linemen and an Uncommon Coach, by Skyhorse Publishing, debuted Sept. 6 to glowing reviews from football legends, and sports writers and commentators including John Madden and Peter King.
At the upcoming SDSU Writers' Conference, in a session titled "Pitch, Sign, & Sell: A Nonfiction Tale of Success from SDSU 2015," Lister, Younger, and Howard Mudd will discuss how the project came to life, and the process of developing a nonfiction proposal that publishers want. The session will conclude with a Q & A.
Here is a preview of the journey.
Did your career as an attorney come in handy when it came to tracking down and interviewing NFL officials for The Third Team? 
Not as much in tracking them down as it did to pique my interest in decision makers applying elaborate rules in a high-pressure and visible setting.
Were the NFL officials thrilled that someone would go to that length to acknowledge their contribution to the game?
Yes. And they remain so to this day. They appreciate that someone had an interest in them and their work. Their job's nature keeps them under the radar. They were grateful for the chance to share their stories.
Can you share an intriguing anecdote about the lives of NFL officials?
There are so many. I suppose one that highlights who they are and their dedication is about Bill Carollo. Bill was vice president of International Sales for IBM. He had a Sunday night game in Pittsburgh. Right after the game he flew to make a connection to a flight taking him to Shanghai where he was due Monday. He worked there for a week before returning for the following week's game. He not only had to coordinate his weekly conference call with his crew to accommodate the time difference, he had to take his uniform with him for the next game. Since he didn't trust the laundries there, he washed the striped shirt, knickers, and socks in his hotel bathroom. He fought off the jet lag to work in his assigned game, to which he flew directly, the following week.
Did you try to go the traditional publishing route with The Third Team or did you go straight to self-publication?
I started down that path. But that story leads to a cautionary tale. One of the book's subjects was in his late 80s. He kept reminding me he wasn't getting younger and would like to see the book in print. Not realizing what this would do to the book's chances in traditional publishing, I printed it in December 2010 and sold many copies through advertising in Referee Magazine. When an agent favorably responded to my query, we thought we would be looking for a traditional publisher. When she learned I had put the book in print, it was a deal killer. I didn't realize traditional houses don't want to pick up self-published work. So I've continued to sell it independently.
How did The Third Team lead to your collaboration with Howard Mudd? 
While my legal background didn't open the door to interviews with the officials, a fortuitous shot with a dart did. I managed to figure out where Bill Carollo worked in his day job. It was a purely cold solicitation. I assumed I had maybe a 10 percent chance to get any traction. He responded and became the gatekeeper who opened the door to the other officials who are in the book.
Bill once mentioned that he had Howard work with his college officials about holding calls. (Bill is now a college officiating supervisor for the Big Ten.) I remembered from my youth when Howard played for the 49ers. Something about how he played stuck with me. Years later, I learned from a television broadcast he had become a highly respected offensive line coach.
When I decided I wanted to hurtle down the path toward another book, this one on the offensive line, I called Bill who gave me Howard's contact information. Once again, I made a cold proposal without introduction. Howard responded favorably, and it's been an astounding journey ever since.
What made you choose the 2015 SDSU Writers' Conference?  
I had spent a great deal of time with Howard and had conducted a number of interviews before I knew about the conference. I had a proposal and some chapters, but I needed some guidance. I was looking for inspiration too. I was thrilled when a friend brought the conference to my attention.
How many advance reading appointments and consultations did you schedule at the conference?
I had two advance reading appointments, which were very illuminating and helpful. They provided the perspective I needed. I had three consultations with agents. Sarah was instantly intrigued, telling me how much she loves football.
What happened after your initial meeting with Sarah Younger? 
She had me send some chapters. She liked the potential. The book is a composite of multiple voices from offensive linemen. She made a wonderful suggestion about how we might carry the narrative, given all the contributors. Her editorial assistance has been fantastic. It is so uplifting to sense the same passion in the agent that the authors have for the work.
Is it amazing to be awaiting the debut of The View From the O-Line this summer?
When I take a moment to reflect on where I've been, I'm astounded. How did I come to collaborate with one of the great football minds in Howard Mudd, someone I admired when I was a young player? How did he become someone I consider a friend? How did I have the good fortune to sit in the backyard of another world-class football mind, Bill Polian, to talk about the game's intricacies for hours? How did I have the luck to sit with the remarkable and engaging linemen I met; men who played such important, yet under-appreciated roles in the NFL?
We have high hopes for the book. But apart from that, the journey to write it is unforgettable.
What do you think is one of the greatest strengths of the SDSU conference?
The advance readings and consultations are an enormous benefit to writers. It's rare to have the opportunity to have that interaction. The breakout sessions provide a wealth of information. And the chance to network with other writers lends to the warm feeling that we're not in this alone; we're not the only ones afflicted by the irresistible urge to write.
What's the first book that spoke to you as a young reader? 
Wow. The one that jumps to mind is Sparkplug of the Hornets by Stephen Meader. It's about a short kid in a new school who joins the basketball team. It was a terrific sports story about the underdog. I guess I've never outgrown my love for books about sports.
Who's your favorite author?
Dan Jenkins. I can't help myself. Laugh-out-loud funny.
Do you have a writing process/schedule?
Having practiced law in the shadow of deadlines, I'd like to think I'm fairly disciplined. I like to create a schedule in the morning and afternoon and do what needs to be done, whether it's writing, editing, or research.
What keeps you going in the pursuit of your writing goals?
I wish I knew. It's something inexplicable, by me anyway.
What advice do you have to writers who attend conferences with the hope of an outcome similar to yours?
If someone is moved to write, then write. I'm not sure where our book will go, but the writing and connection with people — and the same goes for The Third Team — has been extraordinary. It is in many ways its own reward.
As for publishing, the message I heard over and over at last year's conference was: Don't give up. I suppose it is easier to resist giving in when you are driven to write. So use that fuel to persevere. We realize we are very, very lucky to have met Sarah and that we have a publisher for the book. But without persistence, it never would have happened.
I hear you played high school and college football.
Yes, I played in high school and college. But I was a defensive lineman. Howard says I wasn't smart enough to play offense.
The 32nd Annual SDSU Writers' Conference is Jan. 22-24, 2016 at the San Diego Marriott Mission Valley. Register now for three amazing days that could change your writing life.
For more information, visit neverstoplearning.net/writers, call (619) 594-0670 or email sdsuwritersconference@sdsu.edu.