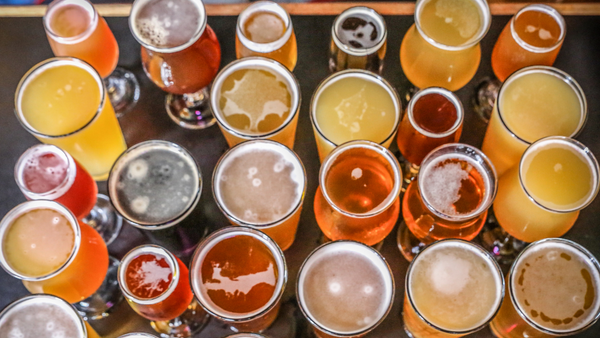 SDSU Global Campus and the Coronado Brewing Company have again partnered on an award designed to help encourage diversity and inclusion in the craft brewing industry. 
The award, first offered in 2021, will pay the tuition for the Professional Certificate in the Business of Craft Beer program each year for one student from a group that is historically underrepresented in the brewing industry. The recipient also will be offered an internship with the brewing company. Gifts of $6,562 per year will be awarded each December until 2025.
Applications for the 2022 award will open on Sept. 1 and can be submitted here. The award recipient will be announced in December.
Kassandra Fierro, the taproom manager and cellar person for Atrevida Beer Company in Colorado Springs, Colorado, was the recipient of the inaugural award.
The Professional Certificate in the Business of Craft Beer program was created in 2013 to help prepare students to enter the industry as brewers, brewery owners, and other related careers. The Coronado Brewing Company has been in business for 25 years and is a respected and well-known San Diego brewery. The company pledged $32,810 to fund the new diversity award. 
"We are thrilled to be partnering with Coronado Brewery and are thankful for their ongoing support," said Natasha Nace, SDSU Global Campus Program Director. "This award will offer enhanced opportunities for our local craft beer students." 
Eddie Buchannon, Coronado Brewing VP of Business Development, said the award is a perfect way to get different groups of people involved in such a beneficial program. 
"I believe our partnership with the San Diego State University Global Campus Professional Certificate in the Business of Craft Beer program is a great opportunity to help promote diversity with future leaders in the craft brewing community," Buchannon said.
"Coronado Brewing understands that in order to improve diversity, inclusion, equity, and better connect with the communities that we serve, we must be part of the solution and not just a bystander. And what better way to take action than by investing in underrepresented groups and communities by providing the skills, and valuable experiences that will help shape the craft beer industry through diversity."
The Professional Certificate in the Business of Craft Beer offers hands-on experience and training for individuals interested in working or who are already in the brewing industry on the business side of operations. Craft brewing has expanded dramatically in San Diego over the past years, having close to a $1.2 billion economic output in 2018. 
"The Global Campus Professional Certificate in the Business of Craft Beer Scholarship provides a platform to invest in the future innovators of tomorrow, as well as help bridge the gap between underrepresented groups in the craft brewing community," Buchannon said. "Our goal at Coronado Brewing is to look for partnerships that provide a pathway in which inspires and fosters a diverse generation of brewing professionals to come."