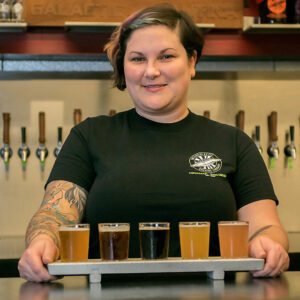 Christina O'Grady had been in the biotech industry for nearly eight years, yet her enthusiasm and passion for beer set her on a journey of exploration to learn more about the history and trends in the burgeoning craft beer industry. When she enrolled in SDSU's Business of Craft Beer program in 2014, a career change was set in motion.
Upon graduation in 2015 – with certificate in hand – Christina applied at Intergalactic Brewing Company in the Miramar area and landed a job as a beertender. Today, she shares her knowledge with customers and enjoys making beer style recommendations in addition to learning every aspect of brewery operations.
Here's what Christina says about the program:
What inspired you to take SDSU's Business of Craft Beer Certificate program?
I really wanted to change my career path to something that I would be more passionate about. I did some research online and found the SDSU Business of Craft Beer program. It sounded interesting and fun, so I attended an info session at Karl Strauss. I signed up for the intro class as soon as registration was open.
What were your goals upon entering the program?
My main goals upon starting the program were to see if a career in the booming craft beer industry would be a good fit for me and to gain the knowledge necessary to facilitate that career change. It's hard switching industries with no experience, but having the education helps tremendously.
How did the program help you succeed in attaining your goals?
I have completed level one of the program, so far, and also obtained my Certified Beer Server certificate from the Cicerone Certification Program. With the help of these two certifications, I was able to get a job at as a beertender at Intergalactic Brewing Company, which happened to be one of my favorite SD breweries.
How did the education you received give you the knowledge and confidence necessary to transform your enthusiasm for craft beer into a career?
Having no experience in the industry, I would not have even tried to pursue a career in craft beer. I would have been in way over my head, not to mention it would have been difficult to find a brewery willing to teach me so many things. I also had very limited knowledge about the styles of beers out there. The Beer Styles I and II classes opened my eyes and palate to so many styles I had never tried before, as well as ways of describing them to others.
What knowledge from this certificate applies to your career on a daily basis?
Pretty much all of it, really. All of the classes I have taken so far have provided me with a lot of relevant information that I use all the time. Everything from beer styles to draught systems to pairing have all been very helpful.
What kinds of hands-on experience did you find helpful?
I think that the beer styles classes as well as the draught systems class were the most helpful in that those three gave me information that I use every day at the brewery. The Cicerone readiness was also very helpful as I was able to pass the Certified Beer Server exam immediately upon completion of the intro class.
Which courses did you enjoy most and why?
I really did enjoy all six of the classes I took. However, my two favorite classes were Food and Beer Pairing and Draught Systems. Both were very informative and were full of great hands-on learning experiences, as well a lot of fun.
How did networking with like-minded students and instructors in the industry benefit you?
It helped give me an idea as to what working in the industry was like, how collaborative the San Diego craft beer community is and I also made a lot of friends in my classes. The program is full of great, knowledgeable people.
What surprised you most about the program?
I was surprised with how detailed the classes were and how much I really did learn. Every instructor went in depth with the subject matter and really taught us everything they knew.
Would you recommend the Business of Craft Beer certificate to others, like you, who want to transition into the business? Why?
I definitely would recommend this program to anyone. The instructors are fantastic and are willing to answer any questions you may have. Everyone is very passionate about craft beer and each class is informative, fun and interesting. It helped put me on a great new career path and changed my life for the better.