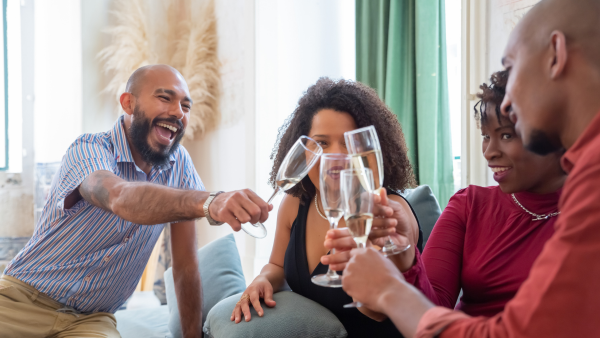 If you're considering learning more about wine, there's no better time than now to stop and smell the rosé!
Whether you are interested in building a career in the business of wine or simply looking to learn more about your favorite drink to sip back and relax with, taking courses on wine can help to broaden your appreciation of what you taste.
When it comes to wine, the more you learn, the better consumer you can become. The benefits of studying wine are not only to expand your own palette but also to socialize with the growing wine community so you can learn from others. While people may have different reasons for an interest in earning an education in wine, grape minds definitely drink alike at the end of the day.
According to Indeed, some notable career opportunities in the business of wine include marketing managers, bar managers, and sommeliers, which pay an annual average salary of $63,317, $42,741, and $74,172 respectively. Restaurant owners, winery employees, event planners, distribution and retail sales associates, wine bar owners, hospitality workers, and wine enthusiasts are just some of the many other career paths for people who have a knowledge of wine.
The nation's wine industry produced 64,000 jobs in 2020, with 36,000 of those jobs coming from California alone, according to the Bureau of Labor Statistics. Wineries are popular in California more than in other states, with more than 600 wineries compared to Washington state at 81 being the runner-up.
Earn a Certificate in the Business of Wine
A great way to up your wine education is to earn a Professional Certificate in the Business of Wine through SDSU Global Campus.
"In SDSU's Business of Wine program, every class is made up of wine professionals seeking more education, and wine consumers pursuing their passion or second career opportunities," said Lisa Redwine, an instructor in the SDSU Global Campus Business of Wine program. "The common thread to these diverse student profiles is their desire to learn. The questions that students ask me inspire me to keep my knowledge sharp, and the different mix of backgrounds affords me an opportunity to be a better wine professional and learn from them as they learn from me." 
Whether you're interested in jump-starting your career, or you just want to learn more about the drink we all love to enjoy, our wine courses can help. You will experience interactive, hands-on learning with tastings, engage with top leaders in the classroom, boost your wine literacy, networking opportunities, and more in our program.
The courses are taught by wine and beverage industry experts, so you know that you are learning from and forming connections with skilled professionals. Many people believe that there is always something more to learn in this business, so these types of relationships may only allow you to grow even further.
"I initially started the program to gain credibility in the wine industry, but kept taking classes because they were fun and interesting," said student Jeffrey Maltzman. "The program has given me an outstanding background of knowledge about the wine industry, winemaking, and wine regions of the world. The courses are educational, entertaining, and interactive and the professors are, without exception, top leaders in the Southern California wine industry."
The courses in the wine certification program can also prepare you for the Introductory Sommelier Certificate Exam. Graduates of the wine certification program include owners of local wine bars and bottle shops, wine import/export business owners, buyers for upscale grocery stores, and vintners at local wine vineyards.
The Professional Certificate in the Business of Wine through SDSU Global Campus includes four core courses and two electives as well as three intensive courses. This can all be done in just two years.
So are you ready to feel grape knowing that you may earn an education promptly and come out of it with a newfound appreciation of the industry with the knowledge and expertise you need to enter it? Enroll in the SDSU Global Campus Professional Certificate in the Business of Wine today!