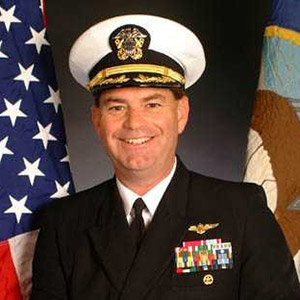 Dennis DuBard grew up in Houston and attended Texas A&M. Then he was off to the Navy to serve his country. Never able to sit still, he wondered what his next move would be after serving 30 years. It was a big decision since he flew helicopters and drove ships. His next step brought him to General Dynamics/Nassco, where they build ships for the Navy.
Since his current job requires project manage­ment work he decided to look around and see if any university offered a project management program to further his skills. What he found was that SDSU had a Project Management program. "When I looked around I saw the program and thought it would be challenging and useful," he commented.
The more things a service person can do to make himself or herself marketable and have some specific training in very specific areas is worth the effort. "It's not hard. You just have to apply yourself, budget your time, and it's worth it in the end. And, given the way things are going, employers are going to want and need very specific types of skills versus a general business and background in education," he says.
"Being in the military helps you succeed in school. The service trains you and provides a regimented discipline – you have to prepare and study. That is an obvious transferred skill that prepares you for university courses. Another skill is budgeting your time. It all takes discipline and patience, and I think those are things you are used to doing in the service. Going to school becomes almost like a regiment. Certain days you've got to go to school and leave time for studying. I think it blends itself relatively easily."
A common theme with service members is that there is uncertainty if education is the right avenue to take after discharge. "I can under­stand why someone in uniform has hesitation in continuing their education. Because the service is all we know, we tend to be in a unique circle and sometimes it's hard to understand what goes on outside the service. So there is probably some apprehension about doing something else. For me to be honest, after starting my first class, the apprehension went away fairly quickly."
To further his studies, he used his GI Bill and says that it was an easy process. "I thought it might be a little challenging with some bureau­cracy, but actually the Veterans Affairs Office had it all set up. I would absolutely encourage mili­tary personnel to use their GI Bill benefit. You've earned it and it's worth using. Continuing your education and earning certificates and anything that can help you succeed in the future, given this economy and market, should be the path taken. The more things you do to make yourself valuable to employers is worth the time and effort," he concludes.