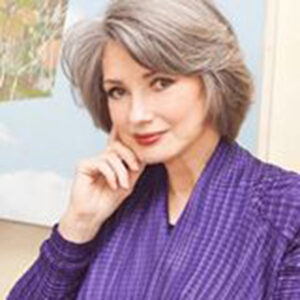 Monique Domovitch is a recently retired mother of two, a wife and more recently, a published author. Over the years, she's had a number of successful careers – model, financial planner, and a television host of her own national show in Canada. For as long as Domovitch can remember, she always wanted to write, but suffered from "the who-do-I-think-I-am disease."
She has always held writers and authors in high regard and never imagined being a writer. Domovitch adds, "As much as I tried to ignore my desire, the yearning to write refused to quiet. Over the years I started and abandoned countless manuscripts. And then, on my 55th birthday, I stood staring at the candles on my cake, wondering what I should wish for, and the first thing that popped into my mind was, 'I want to be a writer,'."
That birthday, Domovitch took a look at her life and decided that she had always followed the safe path, "I have always chosen careers not for passion, but for logical reasons—a good paycheck, job security, that sort of thing. It hit me that if I died today, no matter how successful I had been in my careers, I would have wasted my life. I would not have accomplished what I was meant to do. That night, after my husband and I went to bed, I got back up, pulled out my laptop and began working on the first novel I sold. That was six years ago."
In 2010, she decided to get an agent. Domovitch searched the Internet until she found the one she wanted. On the agent's site she mentioned that she attended the San Diego Writers' Conference every year. So, Domovitch decided to attend the conference that year. "I showed up at the conference not really knowing what to expect. I signed up for as many of the seminars and lectures as I could, and on the second day, I found myself facing a panel of judges, American Idol style. I had registered for a class called, The Slush Pile. The panel of judges were three editors from one of the largest publishing houses in the country. To attend this session, every participant had to submit the first page of their novel, and a pile of those now rested on the table. The panel would read the first few lines of each page and comment. Let me admit, right here, that I walked into this class, with dreams of the editors breaking into spontaneous applause upon reading my work, and immediately signing me up for a book deal," Domovitch adds.
The first judge picked up one page and read the first line—only the first line—and set it back down with a grimace."Slush pile," she announced. The two other editors nodded in agreement. – and, as editors explained, they get hundreds of manuscripts every week, and if the first sentence doesn't grab their attention, that manuscript is dumped.
"I slipped lower and lower into my seat as the stack grew smaller and the critiques more severe. I'd worked long and hard to write my novel, and the last thing I wanted to hear was that my writing was lousy—that I was the writer's version of American Idol's contestant William Hung. At that moment, one of the editors picked up a page and read the title. She read the first line and, to my surprise, continued reading. In fact, she read all the way down to the bottom of the page," Domovitch says.  
The situation got even better for Domovitch. Other comments included; "It's great," "This line makes me want to read the rest of the novel," "Whoever wrote this, send it to me," and "This author has a great voice." For one brief, shining moment, she was Carrie Underwood.
Four years after attending her first San Diego Writer's Conference, Domovitch still looks forward to attending each year. "Writing is a lonely profession, and this is an opportunity to meet other authors. Also, I still consider myself a writer in learning, and I look forward to attending seminars and learning from other authors and speakers.  I can honestly say, that if it hadn't been for that conference, chances are I would still be unpublished. So, when asked whether I would recommend the Writer's Conference to others, I can answer a resounding YES. And my best advice? Write one hell of a good first line," she says.
Novels
Monique Domovitch's first published novel was Getting Skinny, a Chef Landry Mystery, which she wrote for Carina Press. Since then, six of her novels have been published, and a seventh one is due out this  summer. Her second novel was Getting Rich, a Chef Landry Mystery. The next three novels she wrote (for Obsidian Press, an imprint of Penguin), under the name Carole Ann Martin. The first was Looming Murder, the second is Tapestry of Lies, and the third, due out in the summer, is Weave of Absence. She also has two self-published novels, Scorpio Rising and The Sting of Scorpio.