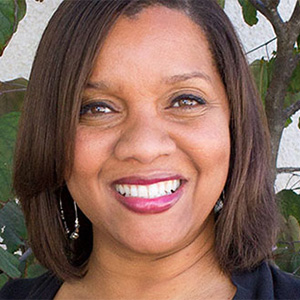 Fatima Peyton, military and veterans services representative for San Diego State University's College of Extended Studies, was among 25 female veterans invited to be in the audience for the "Honoring our Women Veterans" segment that aired on the Hallmark Channel on Veterans Day.
"It was a really neat experience being on set," said Peyton, who served active duty in the U.S. Navy for four years. "I was extremely honored as I have always been a huge advocate for veterans. Being a woman, I have a strong passion for women in the military."
Peyton needed to go through a pre-screening of close to 20 military-related questions before being invited to sit in the audience for the two-hour television show that was taped the day before Veterans Day at NBC Universal Studios in Los Angeles. It also featured a segment regarding caregivers for veterans along with three non-veteran segments.
Among her answers to the required pre-screening, she noted that females in the military have a better support system than when she served in the 1990s but, "We still have a long way to go. The information is available, we just have to ask the right questions to find the resources. There is a huge network of women who have served in the military that we should start with."
Peyton learned about the opportunity to apply to attend the television taping through CalVet; as well as from Joan Putnam, director of SDSU's Joan and Art Barron Veterans Center. The portion of the show honoring female veterans featured former Army combat medic Christine Maag.
On Veterans Day, Peyton sang the national anthem at National University's Veterans Day Recognition Event. Four days later, she sang at a military prayer breakfast at the Sheraton Hotel in Mission Valley.
"I have always had a passion for music and singing," she said. "I was shy about singing in public growing up but am now over it.  As you get older, you don't worry as much about what people think; you just do what you love."
Peyton served in the military as a Petty Officer 3rd Class Radioman onboard the USS Dixon in Point Loma. The Columbia, Missouri native's longest deployment was for six months. She fulfilled her dream of traveling the world through the military by going to places such as the Middle East, Hawaii, Hong Kong, Singapore, Bali, Guam, and Malaysia.
Prior to her position at SDSU's College of Extended Studies, Peyton worked as a military student advisor at Ashford University in Kearny Mesa where she recruited students to return to school using VA-approved programs.
In her current position at SDSU, she helps military personnel, veterans, and their spouses maximize their VA benefits to further their education.
"I love it. I meet so many wonderful people in my job," she said. "These are the people who are out there sacrificing for our country. It's very special and I consider it a privilege to be able to give back to them in this way."