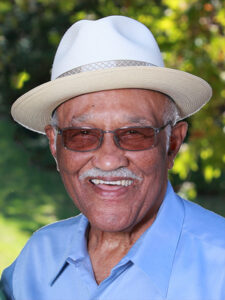 At age 94, the first Black member in San Diego City Council history has gone back to school at Osher Lifelong Learning Institute (OLLI) at SDSU.
Leon Williams, who joined the City Council in 1969, has so far attended six classes and special events through OLLI, which offers university-quality courses in state-of-the-art classrooms with curious fellow learners age 50 and better.
"It's been very interesting," said Williams, sitting in the living room of the same Golden Hill home he has owned since 1947. "I have never stopped learning. I listen to the radio, watch TV, and read. Going back to class has been a good thing for me."
This fall, OLLI offers an exciting and thought-provoking lineup of courses, lectures, workshops, book clubs, Edventures and events, along with the debut of the special event "Conversations Worth Having — Being Mortal: Perspectives on Death and Dying." There are no tests, grades or exams, just the thrill of learning with like-minded peers.
"It helps me stay in touch," Williams said. "It opens my mind to new ideas and discoveries."
Known for his soft voice, trademark smile, and a very friendly demeanor, Williams has taken a variety of programs through OLLI: "The Changing Face and Landscape of Media," "Nutrition and Health: Eat for Maximum Vigor," "Living Forever," "A Social Primer: Social Media Made Easy," "Culture and Cuisine of Cuba," and "The Philosophy of Death."
Said Williams: "As humans, we haven't discovered all we can about the universe. What else can we learn as a species and to be better occupants? We need to be better people to each other. The world needs us to be good as individuals."
Williams, who graduated from San Diego State College (now SDSU) in 1950 with a BA degree in psychology, has long been a student of human behavior. He received a graduate certificate in 1957 from SDSU in social work administration and continued to be involved with the university over the years as a lifetime member of the SDSU Alumni Association.
In fact, he received an honorary doctorate degree in human relations from SDSU in 2007. Then four years later, the SDSU Trolley Station was dedicated in his name for his tireless work as a member of the Metropolitan Transit System's Board of Directors for 30 years. Williams retired in 2006 after being board president his last 12 years.
"SDSU is where I received my college degree," Williams said. "I appreciate what I learned there. I've always had good feelings about SDSU."
Out of college, Williams was employed as a social worker, administrator at the County Sheriff's department, and a director at the Urban League. During his time with the Urban League, he had numerous conversations with then-Mayor Frank Curran about what could be accomplished to make San Diego a better place to live and improve race relations.
When a City Council vacancy came up in the late 1960s, Williams was among 31 applicants for the job. He recalls being chosen by Curran and the council primarily for having been so involved in trying to improve community relations.
"I was under a lot of pressure when they appointed me," said Williams, who was voted into office a year later. "I had a lot of ideas for San Diego. I didn't want to just represent Blacks and the underprivileged, I was there for everybody."
After serving on the City Council until 1982, Williams became the first – and still only – Black person to serve on the San Diego County Board of Supervisors. He retired from the county in 1994. Later this month, he'll be honored by the San Diego Rotary as Mr. San Diego.
Still active, Williams works out each day, frequently doing so at a local YMCA. "I want to feel good as long as I can," he said.
In his "spare" time, he keeps up with politics, the impending presidential election, and happenings around San Diego.
"I've always felt like America is for everybody," Williams concluded. "That's still my attitude. I've always wanted to make more justice for everybody."