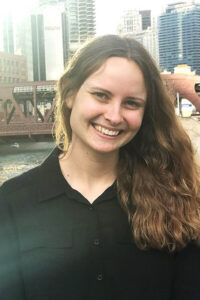 With a degree in linguistics from Pomona College, Miriam Kae spent her undergraduate years working in preschools through the AmeriCorps Jumpstart program, which led her to a career in nonprofits. But she "really missed working with children and with language," so she decided to pursue a career in speech-language pathology. "My linguistics background helped prepare me in some ways, but I was still missing most of the courses I needed to be able to go to graduate school for SLP," said Kae.
The field is extremely competitive for those who wish to help people with communication disorders, swallowing difficulties, voice pitch problems, and more. San Diego State University's Master of Arts in SLP program alone receives some 500 applications each admissions cycle, with room for only 30–40 students. Getting the necessary prerequisite courses is equally as competitive.
After doing "a ton of research," Kae chose SDSU's online Speech-Language Pathology Essentials program, launched by the university in 2016 specifically to meet the demand for its top-ranked MA program — rated No. 1 in California and No. 24 in the nation by U.S. News and World Report.
"The courses were very highly reviewed and affordable," said Kae. "Additionally, I've taken other courses through SDSU and was impressed by the university, so it seemed like the perfect choice."
The eight-week online courses are taught by lecturers from SDSU's Speech Language and Hearing Sciences department, and offered through the College of Health and Human Services, in conjunction with the College of Extended Studies.
Kae answered a few questions about her experience in the SLP Essentials program.
What did you hope to gain by taking the program?
I'm currently finishing up my last two courses — I've taken all of them over the past 12 months. I hoped to gain the qualifications I needed to be able to apply for master's programs, of course. I also wanted to engage in courses that would make me a better graduate student, that would get me excited about my future career, and that would provide me with the foundation I needed to be an effective practitioner.
How did the program meet your expectations?
SDSU's SLP program has been fantastic! I've looked forward to each new class in the sequence. The courses are challenging, interesting, and relevant.
Are there any key takeaways to share from the courses you've taken so far?
Two key takeaways from my courses that I will use to guide me in graduate school are that SLPs are never done learning, and that being culturally competent is a crucial part of serving people with respect.
Can you speak to the caliber of the instructors?
The instructors come from impressive backgrounds and are all very knowledgeable and accessible. They care about the course material and about the students, and I've felt like I've gotten to know them even through the virtual medium.
How convenient is it to fit the courses in your schedule, and how much time is required?
Each course takes about eight hours a week for me; some weeks are more intense and others are lighter. It was nice to have the schedules up front and have consistency about when things were due. I was able to adjust my schedule to make time for the classes, especially because they were priorities to me.
What do you think are the biggest strengths of the program?
The program is very easy to navigate, and the course sequence has been designed thoughtfully. The material also builds on each other nicely. All of the courses were high-quality, and I feel like they've prepared me very well for my next steps!
Who do you think could benefit from this program?
Anyone who is looking to start a career as an SLP should definitely consider this program. It doesn't matter if you are in San Diego, a senior in college, or changing careers!