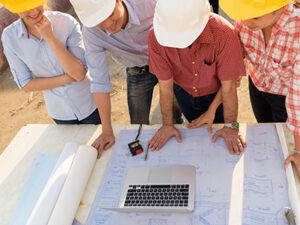 Scott Graydon Carter's entire career has revolved around real estate in some capacity — from builder account manager for Weyerhaeuser Mortgage, to marketing manager for UDC Homes San Diego, to branch manager for Kaufman & Broad Mortgage. So launching Graydon Enterprises in Encinitas in 2000 was a natural progression.
"I find and purchase small to very small infill parcels and use the skills I acquired to take the land from purchase to a finished product," said Carter. "It's very hands-on and very satisfying."
To further excel in his career, he took the online Professional Certificate in Construction Practices program though SDSU's College of Extended Studies. "Overall, if you're interested in becoming involved in the construction field or to better your knowledge, these courses are a must." said Carter. "It's similar to professional athletes who are at the top of their game but still must practice to maintain and improve their skills." He answered a few questions about his career, and the Construction Practices program.
Please give us a brief overview of your education and career.
I studied public administration at SDSU with an emphasis in city planning, which supported my interest in the overall general processes of establishing and evolving real estate into its final design and use.
Wanting to be involved in the building industry, I became a builder account manager for Weyerhaeuser Mortgage Company. I supported San Diego area merchant builders by providing their home buyers with financing, which evolved to working directly with Weyerhaeuser Venture Company on their local projects as well. During this process I was watching and learning the home building processes and all the challenges involved in getting to the end product — as only an observer. My only purpose during this time was to insure that the home buyers were able to perform and close on the builder timeline.
I was offered a position by one of my clients to be the sales and marketing manager for UDC Homes. As part of the management team, I was directly involved with all war room team meetings from purchasing, forward planning, design, building, selling and closing. Being involved in the processes of reviewing and deadline adjustments, as the personalities of the projects unfolded, was my greatest joy.
Later, part of the management team moved on to Kaufman and Broad home builders and I was offered a position as branch manager for K&B Mortgage. After that I started Graydon Enterprises to use what I learned while working among and with large builders.
What do you think are the biggest strengths of SDSU's Professional Certificate in Construction Practices program?
I find that in the field there are so many moving parts, you can get lost or take short cuts. Having a formal, structured focus helps keep you grounded and aware. The instructors keep you on your toes and always brought their experiences and knowledge to the lessons and discussion boards. The discussions with classmates keep you engaged and learning from another perspective — other working professionals sharing their views or takes on a problem or subject. I have to add that the administration was outstanding, understanding, and caring enough to be a sounding board for me. Without them, I would not have been successful.
Can you speak to the quality of the instruction?
All the instructors were practicing working professionals, which leads to a much broader ability to communicate on questions a course may bring up. More important was bringing their in-the-field experience into the classroom for a formal presentation of the subject. I found the Estimating and Bidding course very challenging in the fact you had to program a worksheet to complete some of the assignments. In reality, I use pre-programmed worksheets and just fill in the blanks. The instructor was more than understanding and helpful by going the extra mile and walking me through the very basic process of setting up the worksheet. Another course, Blueprint Reading, I found challenging but very rewarding. It was a great example of the benefit of having an instructor who was a working professional. Throughout the course, most students would lose track of some items on the blueprints and he had a great idea to use colored pencils. This was not only helpful in getting through the course, but useful in on-the-job duties.
Did you learn something in the program that was particularly helpful in the field?
Yes, Mathematics for Carpentry and the Construction Trades [part of the Essential Construction Math course]. I cannot express the importance of this course in the construction field. It ties everything together. You use it in the office, in the field and, most of all, in practice. It's a must opener for any construction certificate, a must! This is the bible of construction, period. Numbers are the heart of construction. You use them to buy things, finance things, estimate things and yes, build things. I have no aptitude for mathematics or numbers but found this course profound and most beneficial. It's as if I couldn't see, and now I can see.
If the program hadn't been online, would it even have been an option for you?
The use of the internet allowed a flexible and complementary learning platform that had little to no interference with my day-to-day responsibilities. I found that having reasonable course deadlines kept me focused on the courses, which appeared to be structured for working professionals both in content and demand. The expectations were clearly outlined in each course introduction, which helped me determine how many courses I was able to take within a given period, and how much time to allocate. This was a huge contribution to the successful completion of each course.
Anything you'd like to add?
If you're looking to get better, broaden your information source, hone your skills, keep on topic and just be a better construction professional, you found the place — SDSU College of Extended Studies.