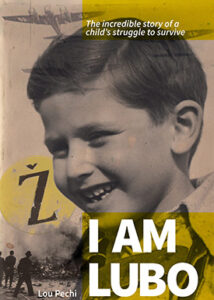 Plato said, "Be kind, for everyone you meet is fighting a hard battle." In the spring of 2011, Louis Pechi's fellow classmates in the Memoir & Life Writing course at the Osher Lifelong Learning Institute at SDSU couldn't possibly have known what battle he had fought, and won. But they soon would.
Had you always wanted to write a memoir or just decided to give it a try when the memoir writing class appeared in the OLLI at SDSU catalog?
My memoir, in the making for the last 30 years, would not have happened without the encouragement and assistance of friends, acquaintances, and even strangers who, after hearing my story, insisted that I should write it.
In December of 1998, I testified for Steven Spielberg's Survivors of the Shoah Visual History Foundation. My taped three-hour interview became the framework for my book. I'm grateful to Mr. Spielberg for allowing me and thousands of Holocaust survivors to provide personal testimony of their experiences. The DVDs of our testimonies are available from USC's Shoah Foundation Institute.
Over the years I accumulated a small collection, maybe 50 pages, of memoir notes and articles. When I spotted Kathi Diamant's memoir writing class in the OLLI at SDSU catalog, I decided it was just what I needed to tie all the loose ends together. Over the years I continued in many of Kathi's writing classes, including the wonderful ones on Kafka literature — I even had dreams about it. I took everything she offered. I think the world of her.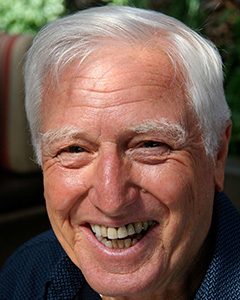 What is your memoir about?
The title of my book is I AM LUBO: The incredible story of a child's struggle to survive. The book is dedicated to all those who risked their lives to save mine. 'Lubo' means love in Serbo-Croatian. It's the name I was called since my birth in Zagreb, Yugoslavia.
The book is about my life's remarkable journey through three continents, four countries, and seven cities to find a happy ending in San Diego. The story begins with a carefree childhood in Zagreb that ended abruptly in 1941 with the bombing of Belgrade and the German invasion of Yugoslavia. In order to survive, I had to change my name, religion, and identity, and it took me many years to recover them. In my journey, I encountered the best and worst of humanity, finally coming to the realization that we are all connected.
How critical was the class to getting a proper start on writing your memoir?
I am so thankful to Kathi Diamant for the many suggestions and constructive advice I received in her memoir writing class. She urged me to come up with a working title for my book. Once I named my work I AM LUBO, like magic, everything came into place and the whole book came alive.
I was so very fortunate that my mother preserved many letters, documents, and photographs. She even kept the round yellow metal tag with a big black letter Ž we all had to wear. It stands for Židov, a derogatory Croatian word for Jew. Her material and the photos that I preserved in two leather-bound albums jogged my memory. Gazing at the details allowed me to accurately describe the places as well as visualize in my mind the feelings.

I would be remiss if I didn't mention the detailed letters, written in tiny handwriting on both sides of postcard-size thin paper, by Uncle Štefko, my Catholic uncle who hid me for two years and saved me. He documented in such minute detail my arrest at age 8, efforts to release me, and finally my deliverance from the jail, so beautifully, like poetry; I included it verbatim in the book.
Years later, while taping my Shoah testimony, while talking of how Uncle Štefko offered his own children Hanzi and Greta (twins) as collateral for my release, I broke down in sobs as I realized the love he had for me.
As the number of Holocaust survivors shrinks daily, their memories will be lost. This was one more of the many stories with an urgency to be told.
After the class ended, did you write in solitude until your memoir was complete?
My classmates Alice Lowe and Jim Brega and I decided to keep getting together once a week. We did that for about six months, then parted company because Alice and Jim like to write short articles, and I was working on my book. So it didn't work for us, but I'm especially indebted to them for providing valuable suggestions for my writing.
Then I met Dr. Fergal O'Doherty at a meditation men's group. He's a professor of literature at Palomar College. We started talking and found out we were each writing a memoir — his is about growing up in Ireland. During two years of our weekly sessions, Fergal coaxed the young child in my story and helped me deliver Lubo's feelings to life. He's a dear friend and I could not have done it without his assistance.
Did you self-publish or go the traditional route?
After finishing the book, I made several attempts to find an agent and a publisher. I didn't have the patience to wait and finally self-published the book with CreateSpace in 2012. Since publication and posting on Amazon, I've had more than 300 print sales and 3,000 Kindle downloads.
During the past several years, I had several book presentations at Warwick's in La Jolla, the U.S. Holocaust Museum in Washington D.C., the Lawrence Jewish Community Center in La Jolla, local senior centers and middle schools, and the Highland Prince Academy in Tijuana, Mexico.
How did you come to be a presenter at the Holocaust Museum?
In February of 2013, I attended the United States Holocaust Memorial Museum's 20th anniversary commemoration in Los Angeles, and donated several photo albums, letters and documents to their archives. I kept only the Ž tag. They asked if I would be interested in a book-signing event at the museum in Washington D.C.  So in July of the same year, I went. It was a two-day event during which the museum sold 90 signed copies of my book.
The highlight of the trip for me was not the sale of the books but the interface and conversations with the many young people I met.
What was your main reason for writing the book?
Several reasons come to mind and I'm at a loss to pick the main one. Eli Weisel writes: Having survived by chance, I was duty bound to give meaning to my survival, to justify each moment of my life. The story had to be told. Not to transmit an experience is to betray it. Why do I write? To wrench those victims from oblivion. To help the dead vanquish death.
Holocaust survivors, like me, often ask themselves, "Why me? Why did I survive? Why was I not one who perished?" I too live with these questions, these feelings. I felt that if I didn't free them, they would burst out in different ways. Suppressing them, not willing to talk about them, and even denying them would keep me forever in the prison of my thoughts.
I had to re-experience what happened in order to grasp my freedom. I did it by writing. Writing my book was the last step of a long catharsis and self-awareness process. Being again, if only in my imagination, a seven-year-old Jewish boy put me in touch with who I was then. It allowed me to be who I am now.
Since I came to the United States when I was 21, people were fascinated by my stories and wanted to know more. While I retold the story numerous times over the years, I realized that the narrative was mainly factual and lacked any emotion. My stories, just like silent movies, showed only the pictures – the facts, but lacked the sound – my emotion.
I hope I was able to accomplish this difficult task and in my book transport the reader not only to the place, time, and event, but to the soul of Lubo in his joy, curiosity, fascination, hope, and incomprehension of the dangers he was thrust into.
Peer pressure was another reason that spurred me to write the book. Almost everyone who heard my story or bits of it urged me to write. To all of them I send my deepest thanks. Their prodding and pushing helped me start the motor of the writing car, sputtering at first, picking up speed, and covering the distance until it reached the I AM LUBO finishing line.
And last but not least, I wrote the story for my own and everyone else's children, grandchildren, and relatives. I wrote it for the next generation that does not have any knowledge of what happened, of how hateful, cruel, inconsiderate, caring, generous, giving, and loving people can be.
Pechi has a BS degree in physics from SDSU and an MBA from Pepperdine University. He has self-published two other books: Dancing with Two Left Feet, a collection of humorous columns he wrote for Folk Dance Scene magazine (the official publication of the Folk Dance Federation of California, South, Inc.); and Pirry, a novel based on his mother's life. The title refers to her Hungarian name, Piroshka (Redhead). Both are available on Amazon.