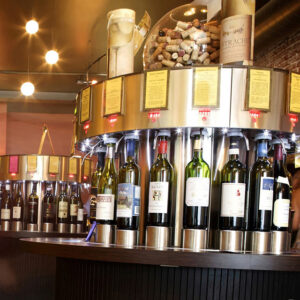 In 1801, Thomas Jefferson's annual salary was $25,000. That same year, Jefferson spent $6,500 for provisions and groceries, $2,700 for servants, and $3,000 for wine. Most people today may not spend 12 percent of their annual salary on wine, but when looking at American's obsession with wine, we are not that far behind.
The U.S. is the world's leader in wine consumption (take that France!) and the retail value of wine sales rose 4 percent to $30 billion in the U.S. last year. Wine is a huge industry in this country, and its foundation is in California.
Experts say that the wine industry will not only grow each year, it will also continue to change – so even more reason to study wine. "Wine education is important; since the most interesting thing about the wine industry is that you can never master it. It changes all the time. You can never know everything about everything, but education helps," says Lisa Redwine, advance sommelier and SDSU wine instructor. "In fact, I study about an hour a day, just so I'm on top of things."
Wine study is a great way to break into the industry or keep up to date with this everchanging product. Most people don't realize that they don't even need to know that much before embarking on a wine path. Redwine adds, "I remember a young student named Juan. He didn't know the difference between Chardonnay and Cabernet when he started his wine study. He now owns his own wine import company."
Juan is not the only one who changed his life after studying wine. "I recently got a phone call from a former student. He was in his 60s and he went on to open his own wine consulting business after earning his certificate, and I can name at least two students who now own their own wine stores," says Redwine.
Those two students, Traci Smith (owner of Splash Wine Bar in North Park) and Sandy Hanshaw (owner of The Wine Pub) reflect on how studying wine led them to owning their own businesses. "I was already on track for a career change, that being to open a wine bar. Taking wine classes did give me a lot of much-needed wine knowledge that was a must in opening and running my wine bar and restaurant. I wouldn't have felt at all comfortable taking on such a business without the education," says Smith.
Hanshaw adds, "Taking the classes gave me the confidence and knowledge I needed to realize that I could have my own wine business sometime in the future. And now I do! About a year after I completed the certificate program, I was laid off from my career job, hotel sales. It was at this time that I made the change and opened up The Wine Pub. The certificate program was a stepping stone to the success of The Wine Pub."
Even if you don't plan on opening a wine business, there are many other benefits to taking up wine study. For instance, you learn much more than tasting, you get real-life wine experience. "I really enjoyed the hands-on class at Stuart Cellars in Temecula. It was interesting to be in the barrel room and gaining firsthand knowledge on things that were happening with the wine right there in that room," says Hanshaw. Smith agrees, "We walked around the vineyards. We learned about what the vines need to grow well and produce good grapes. This helped me to better understand what goes into the wine before it even ends up in the bottle."
So whatever you want to do with your study, anything is attainable with wine.