Leanne Loera left her home in El Centro and accepted a job that would send her to construction sites all over the western United States, just to come back closer to home and find what she was really looking for.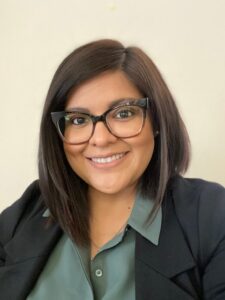 The journey that took 20 years eventually led Loera to San Diego State Global Campus, where she is now pursuing a Bachelor of Science in Business Administration online and on track to graduate in Spring 2023.
Recently, Loera was awarded the Dorothy Allshouse Endowed Scholarship, which supports full-time students who have been out of school in the workforce for an extended period of time and are returning to school to earn a degree. The scholarship will pay for one academic year's worth of tuition, fees, and books for Loera.
"I was just happy that they read my story and that they were interested," Loera said of winning the scholarship. "Not a lot of people know the sacrifices that are made in life. But that's my story, that's where I got to figure out what it was that I was going to do with my life."
After graduating from El Centro's Southwest High School in 2001, Loera didn't have a plan for what she wanted to do next.
"I was just young and didn't really know what I wanted to do," Loera said. "I didn't have big goals, I just knew that I wanted out of the valley to explore and see what the world had to offer me."
She soon followed a friend into the construction trade, working as a project administrator and coordinator at work sites all over the country.
"I was always big on taking chances, very independent, I liked seeing new things and travelling alone," Loera said of those years.
In 2015, Loera moved back to the San Diego area, partly to be closer to her aging grandparents, still unsure of what her next move would be. 
"Some people don't know what they want to do with their life, I was that person," she said.
Inspired by her younger nephew, who had recently been taking some college courses, Loera enrolled at Mesa College and started working towards a degree in Business Administration.
"He was 20 at the time, and here I was, 30 something, and I'm like, 'My nephew can finish school, why can't I?'" Loera said of her decision to resume college after more than a decade working in the construction industry.
Loera now works as an Estimating Administrator in the San Diego offices of C.W. Driver, a general contractor based in Pasadena.
After graduation from Global Campus, she plans on continuing the community involvement work that she gets to do through her employer. The company frequently participates in beach clean ups, blood drives, and other activities aimed at making the communities they serve better.
"It's not about, 'I have a degree, I want to start making money,'" she said of her post-graduation plans. "It's, 'I have a degree, I want to start helping people.'"