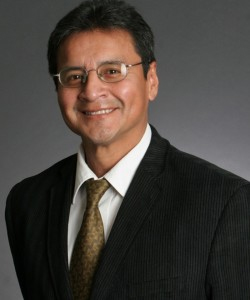 When Leonel Sanchez was laid off from the San Diego Union-Tribune in June 2011, after working as a staff writer for 21 years, he soon realized he needed to update his skill set to be competitive in today's job market.
On the advice of friend and former colleague Anne Krueger, who told him about SDSU's Digital and Social Media Certificate program, Sanchez attended an open house for the program and decided it was the right choice for him.
Sanchez said that prior to enrolling in the program, he had been active on Facebook and Twitter, but he admitted that his digital and social media experience was "not what it would become after finishing the certificate program." He said the program taught him how to be "brief and relevant" with his online comments and "not to be afraid to produce content and share it with the widest possible audiences."
"After I was laid off, I started freelancing stories for several publications, including the Union-Tribune," Sanchez said. "The digital and social media program taught me how to increase my web presence and leverage my newfound skills to better network with potential employers."
Sanchez explains that, as a staff writer for the Union-Tribune, he was very specialized. "I wrote," he said. "Other people took photographs, edited my work and wrote headlines for my stories."
During the year that he freelanced, however, he began to position himself "as someone who could write, edit, photograph, develop content, post on websites, and share on social media networks." As a result, his increased web presence got the attention of the chief marketing officer at Palomar Health, who hired him in August 2011 as the public health district's media relations manager.
3 Questions for Leonel
What social media sites are you active on and what do you like about them?
I am currently active producing and managing content for Palomar Health's Facebook and Twitter pages. I also produce content for our public and internal websites. I also post regularly on LinkedIn. I particularly enjoy monitoring page views on Facebook and tweeting articles written about Palomar Health.
What was your favorite aspect of the program?
I enjoyed the small class settings, the lively discussions, and camaraderie with the former journalists in the room and people in public relations. Mainly, I enjoyed learning about the history and latest trends with social media and publishing on the web.
Which three pieces of advice would you offer to someone interested in this program?
Be open to learning something new and put it to use right away. The Digital and Social Media program will provide you with the foundation you need to remain competitive  and relevant in such fields as marketing and communications. Don't be afraid to produce and share content because if you're not doing it somebody else is and getting people's attention.