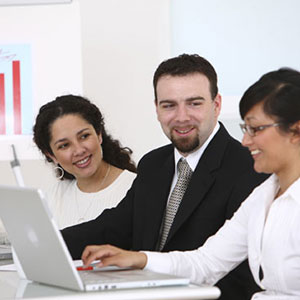 Keeping projects on track, on time, and within budget is so crucial that many companies require key employees – and those of any organization they work with – to be certified project managers. A brief look at two classic project management disasters illustrates just how crucial these skills are.
In 2005, Denver International Airport finally scrapped the sole surviving portion of its automated baggage system – which was costing $1 million per month to maintain – in favor of a manual system. The real fiasco, however, began back in 1990 when the airport was built. What should have been the most advanced baggage-handling system in the world turned into a project whose complexity, architecture, schedule, and budget were so underestimated that the newly completed airport sat empty for 16 months while solutions were sought. Maintaining the empty airport, plus interest charges on construction loans cost the city of Denver $1 million per day throughout the delay.
In 2007, thousands of teachers and other employees of the Los Angeles Unified School District were overpaid and underpaid by tens of millions of dollars, thanks to a new $95 million payroll system. One teacher received a check for $11,000 while another's monthly wage amounted to 20 cents. Tempers flared, emergency checks were cut, attorneys were hired. The 20-month saga ended with millions of dollars in losses on the part of the school district and the payroll contractor.
These are just two of the fascinating case studies of projects from around the world, as chronicled in the Catalogue of Catastrophe. Time and again, expert analysis reveals that projects fail due to varying combinations of 10 common delays and derailments. Knowing those issues in advance can help you keep the project on track, on time and within budget.
Stand out as a leader who can successfully manage project uncertainties, with a Professional Certificate in Project Management from SDSU's College of Extended Studies. Learn more about the program at neverstoplearning.net/pm.
Project Management Courses Lead to Exciting New Career for Personal Trainer Seeking a Change
"The workforce took notice of my updated resume with the project management classes I had completed, and I was brought on board as a technical project manager with the San Diego Tourism Authority," said Walker. "I perform software support projects, data validation, and hardware implementation and deployment projects."
Three years later, he's still on what he calls a "versatile, fast-paced, high-performing team" at the SDTA, and he's still thrilled. "This opportunity has been a valuable learning and gratifying experience with an ever important and extremely fun objective – selling San Diego as the best convention, meeting, and visitor destination."
– Malachi Walker, Technical Project Manager, San Diego Tourism Authority
Enthusiastic Project Management Program Graduate Shares Insights
"Following eight years of growth and success in the training industry, I was eager to take on a new challenge. One of my loyal and trusted clients suggested I look into project management because he believed I demonstrated and learned organically many of the key strengths project managers need to thrive in the corporate structure. Concurrently, a good friend was nearing completion of the capstone class of SDSU's Project Management Certificate program, and urged me to look into the program because it had been a very positive and enriching experience.""The program was awesome and I hope to get some of my colleagues to attend. The instructors were engaging and knowledgeable, and the coursework was challenging yet manageable for working folks. Even though I have had a lot of PM experience and coursework, I found a great deal of application for the program to my work. Thanks for driving such a cool program."
– Mark McCoy, Senior Training & Development Specialist, General Dynamics NASSCO