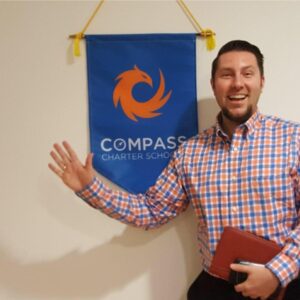 J.J. Lewis is a life-long learner, philanthropist, and servant leader. He earned his Master of Arts in Educational Leadership from San Diego State University, which led to his current role as the Superintendent and CEO of Compass Charter Schools. Lewis was attracted to SDSU's Master's in Educational Leadership degree program because it was online, but also because they partnered with the San Diego County Office of Education. Lewis shares his thoughts on his experience as a student during the Master's in Educational Leadership program, along with useful tips and strategies he was able to incorporate into his role in the education industry.
Share your current role and background in the education industry.
I currently serve as the Superintendent and CEO of Compass Charter Schools. I have been serving in this role since October 2015. Prior to my appointment, I served on the Board of Directors and worked in various capacities at several nonprofit organizations.
Please visit my website to learn more: https://www.compasscharters.org/about-us/superintendent-of-schools/
What made you decide to enroll in the Master's in Educational Leadership program at SDSU?
When I applied and was ultimately selected to serve as the CEO, I knew my background was a little light. As part of my contract negotiations, I asked for assistance to earn a degree or certification to help me in my new role.
I researched several educational leadership programs in California, as it was important for me to attend a California program as I was leading a California public charter school system. I was attracted to SDSU as it was not only online but also partnered with the San Diego County Office of Education. I'm also a proponent of cohort-based programs and was excited to be able to learn throughout the program with the same cohort (many of whom I stay connected with through social media and Twitter).
How important is leadership in the education industry?
Leadership is extremely important, and it's not just about the position you hold; rather, how you use your influence and knowledge to help others.
What is great about this program is the ability to learn some great leadership skills and apply them immediately. You can also share how you are applying learnings with your colleagues in the cohort, along with your professors.
What are some examples of leadership concepts and strategies you learned from the program that you are using in your current role?
One leadership concept I learned from this program was the importance of building and maintaining professional learning networks (PLNs). This is something we did as part of our first class and continued to build throughout the program. Having a PLN truly allows for amazing collaboration and networking opportunities.
Another concept I learned is the Design Thinking process. My favorite part of Design Thinking is the ideation phase, and simply coming up with potential solutions without worrying whether or not they will work out (that comes later). I love this so much that I challenged all of my staff at Compass to participate in my Magic Wand Initiative – if they each had a magic wand, what would be one thing they would do to enhance, expand and/or improve the Compass Experience? We then had our Cabinet and Staff Advisory Committee review all of the suggestions and used the Design Thinking process to bring some suggestions to life. One such idea that we launched this school year is a Peer Mentoring Program!
What was your experience taking online classes at SDSU?
I personally (and professionally) believe online learning is great! Of course, I may be a little biased as the charter I lead is a virtual charter.
The online learning platform is easy to navigate, and while different, there are still amazing ways to collaborate and be part of the learning community. Take advantage of everything SDSU provides you!
Any advice for students considering a Master's in Educational Leadership?
Do your homework. Online learning is not for everyone. Though if online learning works for you, this program is the one to select! SDSU's online Master's in Educational Leadership program is one where you'll be able to apply what you are learning as you are learning, with the support of some of the best faculty in the industry!
I hope you will be #AztecProud and be part of our community of scholars!