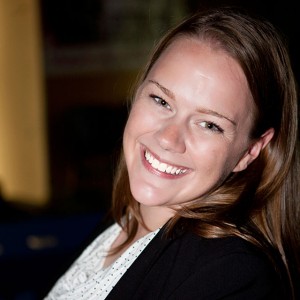 Molly Fry was the assistant director of admissions for a San Francisco Bay area MBA program for a few years prior to moving to San Diego. Once here, she embarked on a career with Vistage International — an executive coaching organization — planning and executing monthly training programs in the Learning & Development department. But her real interest was in meeting and event planning.
"I searched online for part-time event planning programs at night and came across the SDSU Certificate in Meeting and Event Planning," said Fry. "It worked great for my schedule at the time, and was at a reasonable cost. I knew this program would provide me with the right foundation and skill-set to get started."
Indeed it did. Fry is now on the Events Team at Vistage where she plans one-day corporate conferences for members all over the country, ranging from 120-800 attendees. "I plan 12-14 events per year, and then support an additional 10-12. I'm on the road a few times a month. I'm celebrating my two-year anniversary with the Events Team this July."
How important was it that the instructors actually work as meeting and event planners in San Diego?
It was huge. They brought their real team/real world experience into the classroom every night. They were also very connected in the community.
What gems of wisdom did you come away with from courses such as Food and Beverage Planning, Site Selection and Contract Negotiation, and Event Marketing and Promotion?
For me, the highlight of the Site Selection course was going onsite to a hotel and meeting with the banquet/catering staff. That was really special. I had not worked so intimately before with the hotel staff or seen the back of house. It made me fully appreciate how much effort goes on behind the scenes to make our events happen. Contract Negotiation was also really good learning for me. I had never formally negotiated a contract before and I now negotiate 15-20 a year.
Can you speak to the program's networking opportunities?
I'm still in contact with several of my classmates from the program, both personally and professionally. Had I been looking for a job, I know that the instructors would have happily helped connect me within the industry. I'm a member of their LinkedIn group and there are consistent posts for jobs and temporary help needed, along with open forums on industry topics.
How long did it take to complete the program and do think it was a good value?
I completed the program in two quarters. I took as many classes as I could, as fast as I could. It was a tremendous value. Also, I plan to take the CMP [Certified Meeting Professional] exam, and this program was a great precursor. 
What do you think are the top-five skills a meeting and event planner needs?
Be organized, flexible, optimistic, thick-skinned, and kind.
Would you recommend the Meeting and Event Planning Professional Certificate program to others?
Absolutely. It's given me credibility in my field and taught me a great deal about the industry in a short period of time.