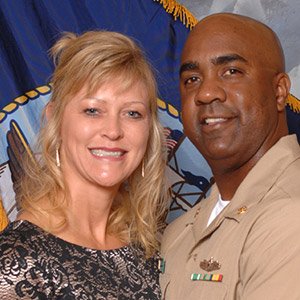 Arriving in San Diego last October, Sharon Johnson knows the military. She and her husband have both served in the Navy for a combined 31 years. They met in the Navy and both serve our armed services today – he as active duty, she as active reserve.
So when she decided to return to school after moving to the area, she conducted research and her path led her to SDSU. "SDSU is a great school and it fit my needs. I'm trying to expand off of my MBA, which the Navy paid for. I used my GI Bill to get my bachelor's and master's degrees and now I'm using my husband's GI benefit to continue my education in Lean Six Sigma and human resource management," she says.
Along with many other students going back to school after a few years' hiatus, Johnson came across a few positive surprises. She adds "I was surprised with all of the business ideas. There were so many thoughts on being an entrepreneur, and how to be an asset to the companies.
Continuing education is a big deal and I was just fascinated at how everyone was on the same page." Using your GI Bill is important to transitioning yourself to another path; however, many military spouses don't know how to get started or are afraid to do it. Johnson offers advice, "Take full advantage of the GI Bill. Take full advantage and use every bit. SDSU makes it an easy process. I think being a military spouse is just such an advantage. Now with the economy it's the perfect time. You are not going  anywhere but forward. A military spouse and their families all qualify. We have a daughter and she is also using part of his Post 9/11 GI Bill."