Keith Burt met his future wife, Brenda in 1969 during a summer break from college (Brenda was attending Southern University in Baton Rouge, LA and went to visit family in San Diego). Keith was attending United States International University (USIU – then recently renamed from California Western University) in the Point Loma area of San Diego; he was working for the San Diego Union-Tribune newspaper during summer break.
During the last week of Brenda's visit, a family friend, who was working at the newspaper, facilitated their introduction. Brenda and Keith went on "a date" for coffee. "We really didn't have time to get to know each other before I returned to college; however, we began writing letters to each other. The letter writing continued over the next two years," Brenda adds.
After graduation, Brenda moved to California and enrolled in graduate school at Occidental College in Los Angeles and in the interim Keith graduated from USIU and had finished his first year of law school at Loyola University School of Law in Los Angeles. Again, through family, they reconnected and the following year they got married. Brenda says, "We finished graduate school, moved to San Diego, and we both acquired a job in our chosen field. For the next 40 years we have both had exciting, challenging, fun, and satisfying careers in the fields of education and law. Within those fields we each have had numerous and varied assignments and experiences involving interactions with racially and ethnically diverse populations."
The couple, who have experienced so much in the last 40 years together, started a New Year's day tradition in 1980 – they walk the entire SDSU campus to discover what has changed from the previous year. "We have always been mentally and emotionally reinvigorated by what higher education offers, so one New Year's morning we decided to come to the SDSU campus to walk its grounds and absorb its energy. Our tours give us positive energy, which is a great way to start off the New Year. We stop at various sites – buildings, gardens, sculptures, walkways, and vacant grounds. It brings back memories of our college years and how our educational experience helped to shape us to be confident, self-reliant, and successful adults," says Brenda.
The most notable SDSU campus changes for the two are the addition of the subterranean trolley stop with its sweeping tiered grass, concrete and brick entrance; the demolition of Aztec Center and newly completed Aztec Student Union; the new fraternity row buildings; the foot bridge over College Avenue; the creation of bike paths; relocation of the tennis courts and the creation of the Aquaplex; the Parma Payne Goodall Alumni Center with the replica sculpture of Monty in the open rotunda entrance; and, the 100-year monument in the promenade to the old bell tower. Brenda adds, "Something that has not really changed much, to our happiness, is Scripps Cottage and the Turtle Pond where we linger during each New Year's Day stroll."
Embracing Lifelong Learning – Aztecs for Life
The Burts participate in SDSU's Osher Lifelong Learning Institute, which they believe helps them to maintain their connection with the community at SDSU. Brenda says, "Because Keith grew up in San Diego and has had an ongoing connection with San Diego State for over 50 years, the sense of being an Aztec has never left him. Participating in SDSU's Osher Lifelong Learning Institute has brought interaction with fellow SDSU alumni and people with whom we both currently interact in other aspects of our lives. Both of us have been surprised to find ourselves regularly contemplating volunteering for various activities out of a felt sense of obligation to serve the SDSU community – like a committed Aztec for Life. For Keith it has been a cementing of his sporadic, but long running past connection with SDSU. For me, who for more than four decades has interacted with SDSU's programs and personnel, and has made San Diego my home, place of work, and social engagement, the Osher Lifelong Learning Institute has provided a touchstone identity for my life's further education and community involvement."
From the perspective of being an SDSU alumnus, the best thing the Burts believe about the Osher Lifelong Learning Institute is interfacing with so many generations of SDSU alumni and exchanging thoughts, ideas, and perspectives on a multitude of subjects. Osher students participate due to a genuine desire to expand their knowledge and facilitate their efforts to have a positive effect on the world that they live in. Brenda adds, "First, participating in the Osher Institute is easy. There is no pressure to perform, give, or do anything. Every aspect of the Osher Institute is fun, exciting, and mentally and emotionally stimulating. The people, concepts and activities compel one to a more meaningful, smarter, and fun life."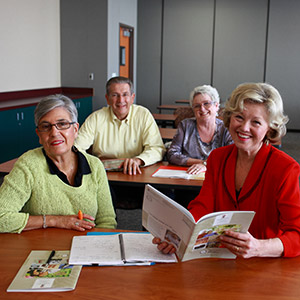 What is the SDSU Osher Lifelong Learning Institute?
The Osher Lifelong Learning Institute at San Diego State University offers a vibrant learning community for adults "50 and better," offering university-quality courses with outstanding instructors, award-winning authors and artists. The Institute's learning opportunities include a fascinating array of academic topics, from art history to political science, with offerings supporting intellectual enrichment and engaged lifelong learning. No tests or grades – just a chance to recapture the thrill of intellectual growth and the camaraderie of exciting discussions with curious fellow learners.As part of our mission to support intellectual enrichment and engaged lifelong learning, Osher students are also invited to participate in leadership and volunteer opportunities to inform the direction of the Osher Institute at SDSU, and to enhance our surrounding community.