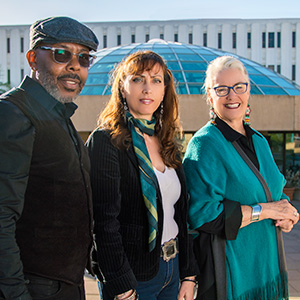 Ever wish you could recapture the excitement of college — the energy of being on campus and the thrill of learning? The Osher Lifelong Learning Institute (OLLI) at SDSU offers exactly that to students age 50 and better, with a bonus — no tests or grades. Every semester, OLLI offers courses, lectures, book clubs, workshops, and off-campus Edventures to its more than 600 members.
The upcoming spring 2018 semester of intellectual fun features a record number of instructors from the SDSU main campus, sharing their expertise on topics ranging from chamber music, Charlie Chaplin, and Shakespeare; to the science of addiction, and natural disasters. Relevant to current events are courses on the first amendment, how social media has revolutionized political speech, the ethical dilemmas of driverless cars, and the constitutional intricacies of impeachment and presidential incapacity. Additionally, a fluke-survivor of Jonestown will share hard-learned insights on cults and leadership styles.
Community-focused courses include a look at San Diego's pivotal role in World War I (such as the making of kelp-derived explosives in Chula Vista), and the Servicemen's Correspondence Collection in the SDSU Love Library featuring the thousands of letters that SDSU students wrote to one professor while deployed around the globe during WWI.
"Every time I take a class, I learn something new that opens my mind and broadens my perspective," said member Jo Ann Olson. "OLLI seems like a secret that needs to get out to everyone." Member Laura Bottaro-Costner added, "I return because I always find courses that let me entertain material from the perspective of a life lived versus undergraduate wide-eyed discovery."
Personal growth and community-building courses include a six-week meditation workshop, and a one-day workshop on improv. This form of theatre is not as out of reach as participants may think. Every moment of life is an unscripted improv, with the proper tools used every day: listening and responding.
OLLI Welcome Orientation and Tour, Jan. 26
On Friday, Jan. 26, from 9:30 am–12:30 pm, OLLI at SDSU is hosting a free Welcome Orientation and Tour, open to all. It's a great opportunity to meet the instructors, staff, and fellow learners. A short presentation about the institute will be followed by a walking tour of OLLI facilities and points of interest on campus. Light refreshments will be provided, and comfortable shoes are recommended. Please RSVP by Wednesday, Jan. 24 at neverstoplearning.net/osher, 619-594-2863, or osher@sdsu.edu. Details about free on-campus parking will be sent via email. Attendees will be entered into an opportunity drawing.