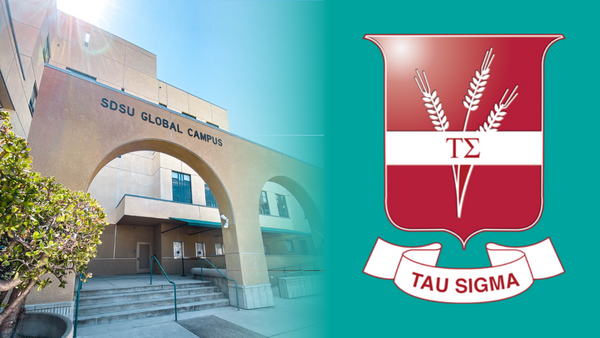 After years of working behind the scenes to make it happen, SDSU Global Campus is now home to a dedicated chapter of the Tau Sigma National Honor Society.
Tau Sigma was formed in 1999 at Auburn University with the goal of helping to recognize and promote the academic excellence and involvement of transfer students who enroll in a university after having completed some college coursework at another campus instead of enrolling in college right out of high school.
"It's hard for transfer students to come into a university setting and get plugged into different organizations on campus," said Lori Carter, Director of Chapter Relations for the Tau Sigma National Honor Society. "This really gives an opportunity for them to plug into the university."
SDSU has had its own Tau Sigma chapter on campus since 2017 and currently has more than 700 members. The new chapter for SDSU Global Campus students is still collecting its founding members after having been formed this fall. About 89 qualified Global Campus students have been invited to join the chapter, organizers said.
Tamika Balderamos, a Student Success Advisor at SDSU Global Campus who helped form the new chapter and serves as its advisor, said invitations to join the local chapter of the national honor society will go out to qualified students each fall. Then, each spring, an induction ceremony is planned to recognize those students who are accepted into the honor society, she said.
"At that induction ceremony event, we are going to acknowledge the hard work they've done in terms of their academics," said Balderamos.
Members will have the option of wearing honor cords along with their cap and gown on graduation day, she said.
National Honor Society for Transfer Students
There are currently more than 220 Tau Sigma chapters at universities across the country, with longstanding and large chapters at Liberty University in Virginia and the University of Central Florida in Orlando, Carter said.
The unique structure of Global Campus having its own dedicated chapter in addition to the university's chapter could be used by other university extension programs to establish their own dedicated chapters apart from their campus counterparts, Carter said.
"This is going to be a great opportunity for SDSU to be a model chapter for Tau Sigma as a national entity," she said.
Sigma Tau has awarded more than $1 million in scholarships to members since its founding and hosts an annual leadership conference for society members from across the country to gather, share insights, and celebrate their community, Carter said.
The 2023 Sigma Tau leadership conference is set for next fall in Washington, D.C.
In order to qualify for membership in the Tau Sigma National Honor Society, students must meet the following requirements:
Must be a transfer student from another academic institution with at least one full year's worth of academic credits satisfied at the prior institution(s).

Must be registered in a course of study leading to a bachelor's degree for an amount of work equal to an average full load (12-15 units).

Membership in Tau Sigma is based upon superior academic achievement by SDSU students at the end of their first term at SDSU. (Only credit hours that count toward a bachelor's degree can be used to determine Tau Sigma eligibility).

An academic cumulative grade point average of 3.5 or higher, or that places a transfer student in the top 20% of all incoming transfer students during the term in question.

Academic eligibility is obtained on the grades at the end of one full semester of enrollment. Eligibility is limited to the first term of enrollment at SDSU.