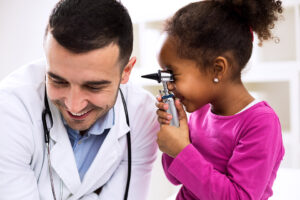 The remarkable speed with which infants learn language is similar to communicative learning in songbirds.
Your ears never stop hearing, even when you sleep.
Language does not need a voice, as evidenced by the Nicaraguan deaf children who developed an entire sign language on their own.
These are just some of the endlessly fascinating aspects of Speech, Language, and Hearing Sciences that will be covered in courses this summer through San Diego State University's online Speech-Language Pathology Essentials program. Launched in fall 2016, the online program was born of the demand for SDSU's Speech, Language, and Hearing Sciences graduate program — ranked No. 1 in California and No. 24 in the nation by U.S. News and World Report.
For those who wish to help people with communication disorders, swallowing difficulties, voice pitch problems, and more, the field is extremely competitive. SDSU's Master of Arts in SLP program alone receives some 500 applications each admissions cycle, with room for only 30–40 students.
That's where the online SLP Essentials program comes in. No application is required, and students can earn credit and meet prerequisite requirements in preparation for applying to graduate programs all over the United States. Geared toward working professionals, the eight-week online curriculum is led by lecturers from SDSU's SLHS department.
Two 3-unit courses will be offered this summer, both beginning June 19.
Instructor Aaron Jones will again teach SLHS 305 Hearing Science, a topic about which he is passionate. "I'm fascinated by central auditory processing: what the brain does with what it hears," said Jones. "It's a complicated area, and each case [of disorder] is a unique puzzle to solve."
New this summer is SLHS 512 Phonological Acquisition and Disorders, taught by Conor Frye, equally as passionate. "The more you know about language, the more you'll see its effects on aspects of your life and culture that seemed to be totally separate. … I've spent nearly the last decade of my life extremely excited about language and how it works, and I've barely breached the surface of what we are exploring about language."
Marin Fisher — an SDSU alumna with a Bachelor of Science in Kinesiology — completed several courses in the program, and cites convenience and affordability as its biggest strengths.
"I feel like I gained as much knowledge in the eight weeks as I would have in a full semester, but I was able to fit it around my schedule," said Fisher. "And it's great that I'm able to keep my full-time job and support myself without having to take out loans. I don't feel like I'm going into debt before I even start my master's."
The courses are offered through SDSU's College of Health and Human Services, in conjunction with SDSU's College of Extended Studies. The SLP Essentials program is open to individuals not currently enrolled in an SDSU degree program.
For more information, visit neverstoplearning.net/SLP, email slp-online@sdsu.edu, or call (619) 594-0243.