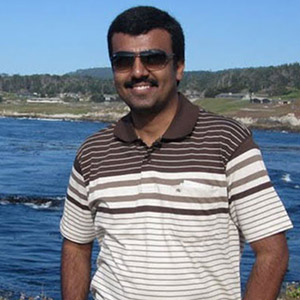 Web and mobile application development is a sizzling hot profession – the job demand is so high that companies often contact students regarding job openings. "Employers are calling to ask about our program's students – one even waited outside of the classroom to offer my students jobs," said Roger Whitney, an SDSU associate professor who teaches courses in Mobile Applications Development and Emerging Web and Mobile Technologies.
One student, Prashanth Govindaraj, landed a job with one of today's top tech companies – Apple – after completing SDSU courses in web and mobile applications development. When asked if taking courses helped him with his job search, Govindaraj explained that learning the programming language used by Apple is what gave him a competitive edge. "Apple uses a language called Objective C, and not very many people use this language, unlike Java. The course helped me learn the language. Learning a new language and adapting to it, always helps you get a challenging job."
Other students have described the key program strengths as the firsthand experiences gained through projects. Discussion boards, chats, blogs, and other interactive online technologies allow students to engage with the program's instructors and other students in courses such as Human Computer Interfaces, Mobile Application
Development, and Emerging Web and Mobile Technologies. "The most interesting part of web and mobile application development is students get to learn emerging stuff. It's not like other programs offered; it lets you have a peek at emerging technologies," says Govindaraj.
Almost everyone in the industry believes that Silicon Valley is five years ahead of the rest of the world in technology, and Govindaraj believes working at Apple is a great opportunity to be a part of the next world-changing developments in technology. "A lot of things come up, and it's really up to the people what becomes successful.
It's difficult to predict what the next big thing is, maybe the iPad 3 will be a game changer. You never know, right?" Many describe the iPad tablets as "game changers,"
while the iPhone and iPod both hold large percentages of their respective market shares.
And the good news is that Apple won't be the only employer hoping to hire individuals who can program applications for web or mobile devices. According to the Bureau of Labor Statistics, there will be a 34 percent increase in computer software engineers between 2008 and 2018, making this one of the fastest-growing occupations in the nation. The highstarting pay in this field reflects the shortage of qualified employees – top earners in mobile applications development can expect
to earn $115,000.
Govindaraj, who is already enjoying notable success as a result of his education, has some words of advice for those who are interested in the profession, "If you're a tech-savvy person, it would make sense to take a course. The thing you will learn in the classroom is that when a professor lectures, he might not always focus on the subject. Anyone can Google a language online, and you don't need a lecture on it. However, the professor goes over techniques and the best way to do things. And, in this field you need a strong foundation, and the classes build on it."