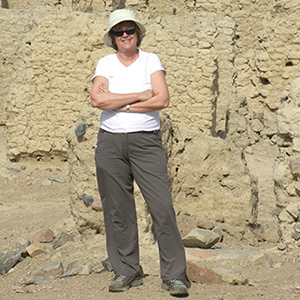 Leslie Thompson's life has been full of wonder, enrichment, and adventure, beginning with three formative years in a rural log cabin in Alaska. After earning her Bachelor of Fine Arts degree from the Museum Art School in 1971, she became involved in the early women's movement, started a pottery studio, built a house, ran a graphic design business for about 20 years, and even became an adjunct faculty member at a community college, eventually earning a California teaching credential.
From there, Thompson and her husband decided to leave their comfort zone in California to teach at an international school in Lebanon and then after three years, in Saudi Arabia. During their ten years abroad they traveled extensively, visiting over 40 countries. Three years ago she was ready for something new. "After seeing a colleague working on his master's degree in Learning Design & Technology, I thought that path might be a good fit for me as well," she says. Discovering that the College of Extended Studies and San Diego State University had an online program in Learning Design & Technology (LDT), she decided to enroll since she could stay in Saudi Arabia while earning her master's.
Thompson retired from her job teaching, returned to the U.S., and finished her LDT degree. She is now starting a company, Agile eLearning Design, and hopes to combine her skills in graphic design and LDT to benefit businesses.
She found her new path through the LDT capstone course. For the final project, she and a partner were assigned to work for the County of San Diego. The County wanted them to develop an eLearning project for its employees to help improve customer service – they also wanted something "outside of the box." Thompson jumped at that direction because, "Well, 'outside of the box' is my motto," she says. Utilizing her graphic design skills, she decided to take a graphic novel approach for the project.
"We decided to go the path of branched scenarios with a lot of really interesting choices that the learner had to make about customer service," Thompson states. "As I was creating the illustrations, I was thinking that it was just a great deal of fun. I thought it was very successful and that made me realize that there are other people out there who could use art and graphic design skills that I have, but it also revealed a whole different market in instructional design."
Furthermore, Thompson used her new skills beyond the classroom by creating a colorful and graphic job aid for school guards in a Saudi Arabia school. "The guards needed guidance and direction to perform their job properly. We created a set of procedures in a job aid to improve performance. To make the procedures less daunting we added a graphic feature. Today, it still hangs in the guard house. It's the most effective form of communication I have ever done," she says.
Thompson's hard work and dedication paid off – in 2012, she was named as a featured graduate at San Diego State University. This is a significant achievement because only a small number of students receive this distinguished title. "I was completely surprised," she admits. "We had some people in that program that just blew me away. They would post to our discussion boards and I would find myself learning so much from the students themselves. To be selected was such a huge honor."
Enrolling in the LDT master's program was one of the best decisions Thompson has made in her varied career. Not only did she learn about the world of LDT, it changed her career path and future goals as well. "The program was such an eye-opener for me and that's what I'm interested in doing now" she adds. "It really was serendipitous that I turned up finding SDSU. I couldn't have picked a better program.