When Marion Urban finished her journalism studies in Strasbourg, France, she decided to go to French Guiana and start a newspaper with four other journalists. After four months, the newspaper collapsed and she found a job at a local radio station, where she worked for two years. After that Urban traveled to Brazil, Haiti, and Montreal, Canada and decided to make a major jump and travel to Africa.
In Africa, Urban became a freelance journalist in Nairobi working for Swiss and French  newspapers, for radio stations – (French desk) for South African Broadcasting Corporation, BBC, Radio Nederland, Deutsche Welle, Radio Suisse Internationale, CBC (Radio Canada) – and reported for Radio France Internationale (RFI). She worked for RFI on a regular basis, and became a staff journalist until 2007. Urban went on to Mali to train radio producers for a French NGO, where she traveled to Senegal, Chad, Cameroon and Republic of Congo (Brazzaville).
As a journalist for RFI, she was based in Kenya and Somalia and worked in Africa for four years. She became an expert in the area. Urban adds, "I was lucky to work for a news agency while in Somalia. I didn't cover the wars, I covered farming issues. I was running after cattle.
Africa changed me – it gave me a sense of space and time. Today, I am able to distinguish the different people of Africa. There is a way of speaking, there is a way of behaving, there is a way to stand, you can feel that from the people from each country – they carry the history of their country."
Today, Urban lives in Paris after spending a semester at the American Language Institute (ALI) at SDSU in the English for Academic Purposes program. "I wanted to know much more about the American culture, so I decided to study in U.S. I had two choices, Boston or San Diego.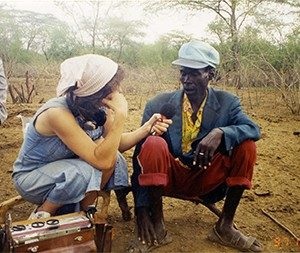 Boston is much more European, so I decided to come to San Diego for four months." Studying English in the U.S. was a very new experience for Urban since she has only studied English for a few years. She learned there are often different meanings behind words. Urban adds, "I will be more careful using words, especially the word 'productive.' The meaning of the word isn't defined the same way worldwide."
Never wanting to be stationary, after her study at the ALI, Urban made a cross-country trip across the U.S., where she says the highlights were hanging with Navajo Native Americans in Arizona and experiencing the city of New Orleans. Her next step is to return to Kenya to work with a small data agency collecting data for the NGOs. "They have a huge network of volunteers to collect data on health and education in Africa. We digest the data and present it to the NGO," she says.
After Kenya, Urban's plan is to continue her English study at the University of Birmingham in England to study online, investigative, and data journalism to "find a new way of practicing journalism by knowing more about social media and networking."