Karen Keskinen was born and raised in Salinas, California, around the block from John Steinbeck's childhood home. She has also lived in Wellington, New Zealand, and in the Northern San Joaquin Valley. Today she resides in Santa Barbara – the setting for her Jaymie Zarlin Mystery Series.
After first writing poetry for a dozen years, Keskinen moved on to fiction writing. She attended the SDSU Writers' Conference three times, to help realize her goal of becoming published.
"The SDSU Writers' Conference was instrumental in the achievement of my goal. Blood Orange was picked up by my editor, Kat Brzozowski, at the 2011 conference. I'd attended two previous conferences, and was selected for an "Editor's Choice Award" in 2008 by Jill Dembowski of Little, Brown (for a young adult novel). I was also invited to submit a children's manuscript to Alvina Ling of Little, Brown at an earlier conference. Although those books weren't published, I learned from the experiences. Also, I made sure to avail myself of the excellent workshops offered by the conference," Keskinen adds.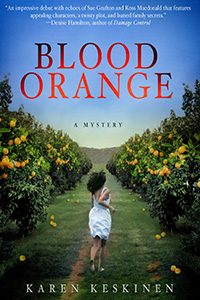 So far she has one published book, Blood Orange, with Thomas Dunne Books/Minotaur Press. Blood Orange is the first book in the Jaymie Zarlin Mystery Series. The second book, Black Current, will be released in June, 2014. The series follows Jaymie Zarlin, who, with the help of her assistant Gabi Gutierrez, navigates her way through rich and poor enclaves of Santa Barbara to solve murders and other crimes. Zarlin's investigations expose deep veins of corruption in the sunny seaside city.
Keskinen says, "My advice to first-time attendees is simple and straightforward: bring work that you are committed to and passionate about. The spit and polish can come later.
The SDSU Writers' Conference is possibly the best conference to go to in the country if you are serious about publication. I can't think of another conference that brings together such a talented and sizable group of editors and agents. The workshop leaders and panelists are excellent as well, and the atmosphere is congenial and collegial."