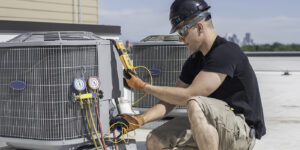 HVAC/R service technicians work hard to improve our comfort, overall health, and quality of life by giving us control over the air we breathe where we live and work. Continuous advancements in technology are increasing the demand for qualified HVAC/R service technicians nationwide.
Here are five things to know about a career as an HVAC/R service technician:
1. Jobs for HVAC/R service technicians are on the rise
Job opportunities for HVAC/R service technicians are trending in the right direction. The U.S. Department of Labor's Employment and Training Administration estimates that jobs in this field will grow by 12.6% over the next several years resulting in 46,300 newly created jobs nationwide and 42,800 job openings each year. San Diego County has the second highest number of job postings for HVAC technicians in California, trailing slightly behind Los Angeles County. Growth in HVAC/R technician careers will be driven by new commercial and residential building construction and a growing number of more sophisticated climate-control systems, including an emphasis on energy efficiency.
2. HVAC/R technician careers provide a great salary
According to the U.S. Bureau of Labor Statistics (BLS), the national median HVAC/R technician salary is $50,590. As an apprentice, you can expect to earn about half the wage that is paid to more experienced workers in your area. Still, you'll be able to gain experience and move up relatively quickly as you earn certification. Top earners in HVAC/R technician careers, those with certification and experience, earn more than $82,800.
3. HVAC/R service technicians enjoy consistent work
Almost all HVAC/R service technicians work full time regardless of the time of the year, meaning you won't have to find work during the slow periods and downtimes often found in other trades. However, you may be expected to work overtime and occasional nights and weekends for emergency situations during peak heating and cooling seasons.
4. Work environments vary for HVAC/R service technicians
Most of the time, HVAC/R service technicians work in homes, stores, office buildings, schools, or factories. You may be assigned to a specific job site, or you may travel to multiple job sites daily. Some of your work will be conducted inside, and you'll be out in the elements at other times. Appropriate HVAC/R technician training and safety equipment are needed to avoid electrical shock, burns, and other physical injuries. In San Diego, the top industries hiring HVAC/R technicians are construction, real estate and rentals, and manufacturing.
5. You'll need special HVAC/R technician training to enter this field
You'll need to complete an HVAC/R technician training program to get a job as an apprentice and begin your HVAC/R technician career. Over time, you'll need to get licensed to work on your own, and it is recommended that you pursue NATE or HVAC Excellence certification to enhance your job prospects. These certifications prove to employers and clients that you have the skills needed to perform your job.
Our online HVAC/R technician training course will provide you with the knowledge and skills you need to begin your career as an HVAC/R apprentice. During this course, you'll gain hands-on guidance for proper service, repair, and solutions to common HVAC/R problems. Upon completion, you'll be prepared to pass all 17 HVAC Excellence Employment Ready Certificates, the EPA 608 Refrigerant, and NATE Ready to Work Certificate. Vouchers for the Employment Ready Certificate for Electrical, Employment Ready Certificate for Air Conditioning, and EPA 608 are included in this course.
Ready to learn more about starting an HVAC/R career? Explore our HVAC/R Technician training course today.