Premiering summer 2022, the Creative Mind Academy is a new institute at San Diego State University for students in grades 11 and 12 and incoming college freshmen from all over the world, and applications are now open!
I Have A Creative Mind and I Dream To Be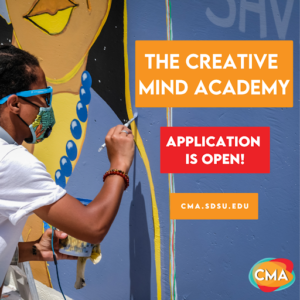 The Creative Mind Academy runs July 5-31, 2022. Over four weeks, students will complete six transferable college units at SDSU's beautiful campus through a mix of theory-based and hands-on courses that prioritize experiential learning and creative expression.
At its core, CMA embraces a spirit of cross-disciplinary learning, blurring the lines that often divide sciences, art, social sciences, technology, and business.
CMA students take two three-unit SDSU classes and space is capped at 20 students per course. 
The core tracks offer unique opportunities for students to catapult their experience in the following fields: Astronomy and Art, Acting, Coding for Creatives, Designing Sustainable Spaces, The Art of Aerospace Design, Entertainment Events Management, Founders Bootcamp, Leadership and Debate, Sports Media Management, Acting, Dance, Music Production, Musical Theatre, Comic Art and Graphic Novels, Creative Writing, Film, and Saving the Planet. 
The CMA experience includes residence at SDSU with a pool, tennis courts, sand volleyball courts, putting green, observation deck, fire pits, and shaded outdoor lounge areas, as well as fun on-campus workshops and seminars. Off-campus excursions to some of Southern California's world-renowned destinations are also included.
Prospective students will be asked to apply for one core track that may require supplemental information such as a portfolio submission, an audition reel upload, or other materials that will help the CMA admissions team decide where students are placed.
Join the Creative Mind Academy This Summer
Click here to apply to the Creative Mind Academy in Summer 2022.
For more information, please visit the CMA Website and for any questions please contact Heather Sweeney, hsweeney@sdsu.edu. Connect with CMA on CMA's Facebook, Instagram, Twitter, and TikTok.