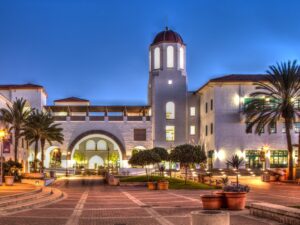 SDSU Alumni lifetime members now qualify for a 20% discount on select professional development certificate programs offered through SDSU Global Campus. 
By taking a certificate program online through SDSU Global Campus, lifetime members can add a skill to beef up their resumes, learn more about an area of interest, and stay connected to campus.
There are more than 11,000 lifetime members who qualify for the new discount. Lifetime members play an important part in helping shape the future of SDSU by supporting the SDSU Alumni Lifetime Member Endowment and the SDSU Alumni Scholarship Program.
Ed Montoya, a 1994 graduate of the university's School of Public Administration and an SDSU Alumni lifetime member, said the new discount on select Global Campus programs represents an additional benefit of the membership he already enjoys, especially when so many conferences and other enrichment opportunities have been sidelined due to COVID-19.
"It is great to know the benefits of a lifetime membership continue to pay dividends years after I made the commitment," said Montoya, an Orange County resident and Client Insights Lead for Information Resources, Inc. "This offer to take classes through SDSU Global Campus is great timing due to the inability to attend conferences and/or other educational opportunities."
SDSU Alumni lifetime members can now get 20% off on enrollment fees for the following SDSU Global Campus programs:
How Does it Work?
Contact an SDSU Alumni team member at alumni@sdsu.edu to find out how to receive your lifetime membership discount on select SDSU Global Campus programs.
The 20% discount cannot be combined with any other offers, such as early registration discounts offered by some programs. Discounts will be applied at checkout via a promo code lifetime members can access through the SDSU Alumni mobile app.