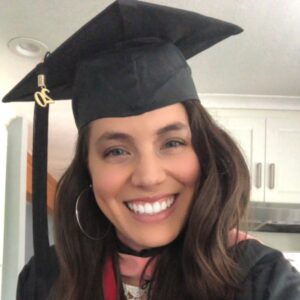 Michelle Young has always been passionate about community service. 
After graduating from UC Irvine, she began working as a promotora, or community health liaison, for the Children's Health & Maintenance Project (C.H.A.M.P.). With C.H.A.M.P., Michelle helped facilitate oral healthcare to children and families in under-served communities across Los Angeles County
After years of service, Michelle decided to go back to school to earn her Master's in Public Health. Continuing her work while attending classes was essential, so she decided to apply for the Online Master of Public Health Program at San Diego State University.
Now, Michelle will graduate from the MPH program this summer. We wanted to find out more about her experiences earning her Master of Public Health online.
What was your professional background before joining our program?
My professional background before joining the background included working full time at the Herman Ostrow School of Dentistry at the University of Southern California in the Division of Dental Public Health and Pediatric Dentistry. 
After graduating from the University of California, Irvine in 2012, I started working as a community oral health liaison, or promotora, for a community oral health research program called the Children's Health & Maintenance Project (C.H.A.M.P.). I helped create and implement educational components including visual aid demonstrations for oral hygiene instruction, nutritional counseling brochures, information on how to obtain affordable dental care benefits, access to geographically convenient dental homes, administer preventative fluoride treatments, and other resources such as transportation, housing, medical coverage, etc. 
These preventative measures helped families living in disadvantaged communities overcome barriers in accessing dental care. 
What made you decide to pursue your Master of Public Health?
My sister Nicole received her MPH from California State University, Fullerton in 2015. She is currently working for a community health program, concentrated on fitness and nutrition, at a Christian hospital called Providence Little Company of Mary. She is one of the reasons I was inspired to pursue my MPH degree because of all the networking opportunities she is linked to in order to expand her career. 
Additionally, educating families living in disadvantaged communities on the importance of oral health from my previous work experience was another significant reason why I decided to pursue my Master of Public Health degree, concentrated on Health Promotion and Behavioral Science. 
This experience inspired me to not only learn more about the importance of oral health care but also opened my eyes to a wider range of public health issues, affecting local and global populations. 
What made you decide on SDSU?
I selected this specific graduate program at SDSU because, not only was the entire curriculum accessible online and I was able to work full-time throughout the program, but having the opportunity to be taught by prestigious faculty stood out the most to me.
All faculty members were extremely knowledgeable and motivating in helping me learn about essential topics in public health and how I could implement effective intervention strategies for improving public health efforts to reduce health disparities. 
Despite all of the courses being taught online and off campus, the instructors' willingness to spend critical time thoroughly explaining each topic per module, before and after a regular class session, really helped me comprehend the objectives by the end of each course. They truly cared about my future goals and inspired me to make a greater impact on the lives of those in need. 
Can you tell me a little about your experience with taking courses in a virtual format?
I truly enjoyed taking courses in a virtual format. Before applying to the online program, I did consider applying to the on-campus Master of Public Health program because I have always taken courses in-person. However, the time allotted between deadlines for assignments was a huge advantage for me to be able to manage my academic and professional work schedules.
Also, the structure of each class emphasized cohort interaction for assignments and projects per semester. I was able to connect with other MPH students by successfully setting up Zoom or Skype meetings that best fit our own personal schedules. Speaking with other students with similar academic and professional goals also gave me an opportunity to network with public health organizations that they may be currently working with or planning on connecting with in the future. 
What were some of your favorite courses? Any standout instructors you'd like to mention?
Some of my favorite courses were Behavioral Medicine, Prevention and Control of Chronic Illness, and Migration and Global Health. 
All of the instructors were amazing, however a few standout instructors were Dr. Yolanda Serra, Dr. Emily Schmied, and Dr. Michelle Takemoto.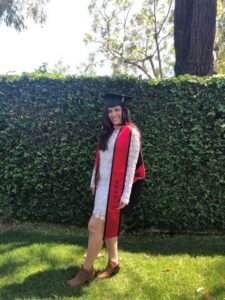 Do you have any plans after graduation?
My initial plans after graduation this summer were to travel with my family to Portugal and Spain for a few weeks. However, due to the Coronavirus restrictions, we decided the safest decision would be to move the trip to next summer.
My short-term professional goals are to proceed to dental school or apply for my Ph.D. in global public health or maternal and child health within the next couple of years. 
My long-term professional goals are to hopefully become a pediatric dentist to help people achieve their healthiest state of oral healthcare. I also hope to apply this new knowledge I learned from my MPH degree to develop and implement educational programs that specifically target preventative medicine in a public health setting such as medical or dental clinics or in a hospital setting in local and global communities.
Interested in Earning Your Master of Public Health Online?
If you're a working public health professional who's interested in earning your Master's degree, our Master of Public Health Online (MPH) program is designed to help you earn a graduate degree from San Diego State University in just 18 months of virtual classes.
Join the future of the healthcare industry with SDSU. Learn more at neverstoplearning.net/mph.