As a travel journalist with decades of experience, Maggie Espinosa wanted to learn how to market her work to an audience that was rapidly changing.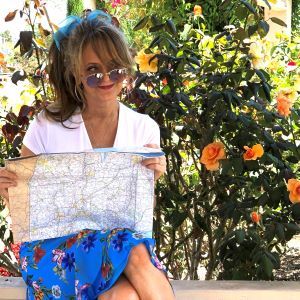 She decided to pursue a graduate-level degree with a focus on tourism that would help her update her skill set. After researching some different programs, she decided to apply for the Master's in Hospitality and Tourism Management Program at SDSU Global Campus.
"I pursued my Master's in Hospitality and Tourism Management because I needed to take my travel journalism skills into the 21st century," said Maggie. "The program helped me move my career onto a digital platform. I chose SDSU because of its good reputation in the hospitality field."
Now, Maggie runs her own business, Travel with Maggie — a travel blog documenting her adventures throughout California. She also runs an online shop and the Travel Writer's Pad, a worldly 5-star AirBnB located in sunny San Diego.
We wanted to find out more about Maggie and her experience with our HTM program. 
Can you tell me about your professional background before you started SDSU's Master's in Hospitality & Tourism Management program?
I've been a travel journalist for 20 years. Throughout my career I've been in the Huffington Post, LA Times, Travel + Leisure, Oakland Tribune, San Diego Union Tribune, The Week, and more, as well as guest interviews on NBC Nightly News With Lester Holt and the Travel Channel. 
What was your experience with your classmates like? Did you feel like you were part of a community?
I thoroughly enjoyed my classmates. Many of them were located in San Diego where I live, so we could get together for moral support throughout the program. I also really enjoyed my grad partner — Leah Friedman — with whom I was paired during the first on-campus week. She and I corresponded continually during the program and became good friends. These relationships I just spoke of all made me feel part of a community. 
Did the two on-campus weeks help you with the program?
The two on-campus weeks were an integral part in forming a cohesiveness among fellow cohort students. The first on-campus week we quelled each other's angst about the upcoming coursework. The final on-campus week we felt as if we knew each other well, having endured the same scholastic demands over the past 1 1/2 years.     
What was your experience with your mentor like?
I was very fortunate to be paired with a smart, creative, driven mentor who imparted valuable knowledge to me throughout our mentor/protege relationship. 
The vast majority of the HTM program takes place online. What was your experience with virtual learning like?
The online aspect of the HTM master's program is a large reason why I enrolled. My work schedule doesn't allow me to have designated times to be in a classroom. Virtual learning was beneficial for me because I could work at my own pace. I do feel to learn virtually, one must have self discipline and good time management skills to complete the assigned work.  
What's been the most valuable lesson(s) you've taken away from the program? How do you use those lessons in your current job?
The most valuable lesson for me is the camaraderie of fellow students throughout the program helped when tackling a large project. I carry this through to my current job.  
Take Your Career in Hospitality to the Next Level
Whether you're a travel journalist or a career hospitality professional, our Master's in Hospitality and Tourism Management Program can help you take your career in hospitality and tourism to the next level. Through networking opportunities, convenient virtual lessons led by our experienced faculty, and our one-on-one mentor-matching program, you can build connections and learn the skills you need to become a leader in your field.
Learn more at neverstoplearning.net/htm.