CompTIA, the Computing Technology Industry Association, is the leading global provider of vendor-neutral IT certifications. The organization has awarded more than two million certifications since it began offering them in 1993. 
In San Diego County, CompTIA certification holders are in high demand. According to labor analytics firm Burning Glass Technologies, over 2,200 job postings in the last 12 months requested a CompTIA Security+ certification. Earning a CompTIA certification proves to employers that you have the right knowledge and skills to get the job done. Earning your certification can be the boost your career needs.
There are many different CompTIA certifications for almost every aspect of IT that can help you throughout your career from entry-level positions through senior-level management. If you are looking to launch your IT career, you should start with the CompTIA A+ certification. Then you can stack your résumé with CompTIA Network+ and Security+ and open yourself up to numerous IT career paths.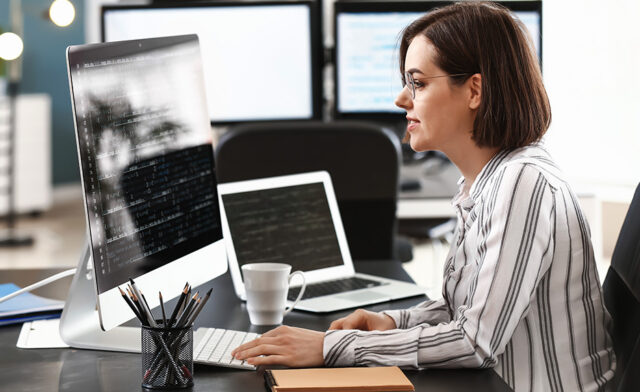 Overview of IT and Computer Support Jobs
Did you know that jobs in computer support are growing at double the rate of the average job in the U.S.? The U.S. Bureau of Labor Statistics (BLS) estimates an additional 67,300 qualified professionals will be needed during the next eight years. Earning CompTIA certification can help you qualify for many different IT roles—all with a great starting salary and future advancement opportunities. Here's a list of some of the jobs you can apply for after earning certification:
CompTIA A+ Certification
Associate network engineer

Data support technician

Desktop administrator

End-user computing technician

Field service technician

Help desk technician

Help desk technician

Service desk analyst

System support specialist

Technical support specialist
CompTIA Network+ Certification
Computer technician

IT consultant

Network administrator

Network analyst

Network field technician or engineer

Network support specialist

System engineer
CompTIA Security+ Certification
Entry-level security roles

Junior IT auditor

Penetration tester 
Stacking these three credentials will demonstrate to employers that you have the foundational skills needed to manage and support devices, networks, and security—a valuable combination for someone just starting or hoping to advance their IT career.
Certifications Matter in IT
According to the "CompTIA HR Perception of IT Training and Certification Study: 2015," 91% of employers believe that IT certifications are a reliable predictor of employee success on the job and say they play a key role in the hiring process.
Certifications are used by hiring managers to weed out unqualified individuals. In fact, 72% of employers require IT certifications for certain job openings. The CompTIA study also revealed that 60% of employers use certifications to confirm applicants have the skills needed for the job, and 67% use certifications to measure an applicant's willingness to work hard to meet a goal.
In addition to improved job prospects, getting certified boosts your earning potential. According to Burning Glass data, the median salary in San Diego County for a CompTIA Security+ certification holder is $76,725, ranging as high as $125,000 per year.
The BLS reports the median salary for all computer occupations is $91,250, with high-level IT positions making significantly more. The CompTIA study also revealed that 92% of employers pay a higher starting salary for those individuals who have earned IT certifications versus those who do not have certifications.
What's the Best Way To Earn These Valuable Certifications?
The first thing you need to do is gain the skills necessary to become CompTIA certified. One of the best and most convenient options is to complete an online training course that will also prepare you to successfully pass the CompTIA certification exam(s).
SDSU Global's online CompTIA Certification Training course allows you to start anytime, and study when it's convenient for you. You'll gain in-demand skills from expert instructors who have performed the jobs they are training you for in real-world companies across the United States. 
You'll receive 480 hours of self-paced instruction to be completed over 12 months and get valuable hands-on practice for your CompTIA certification exams. This course will fully prepare you for all three of the certification exams mentioned in this article: the CompTIA A+, CompTIA Network+, and the CompTIA Security+ exams.
Want to learn more about preparing for CompTIA  certification and boosting your IT career prospects? Explore our online CompTIA Certification Training course today.