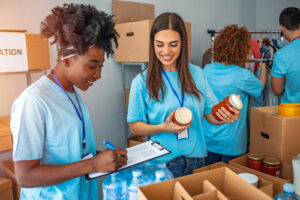 Are you a full-time SDSU student who has served auxiliary organizations on campus? If so, you may qualify for a $5,000 scholarship to help cover tuition, books, fees, and other educational expenses.
The Auxiliary Organizations Association (AOA) includes the auxiliaries of the 23 campuses in the California State University (CSU) system, including SDSU. AOA is offering one $5,000 student scholarship to support academic and academic-related expenses. Two SDSU students have been past recipients of this award. Could you be next?
The purpose of this scholarship is to recognize CSU students who have demonstrated a history of service to auxiliary organizations at their campus or throughout the CSU system. Examples include:
Serving as a member of an auxiliary organization governing board

Working as a student employee of an auxiliary

Volunteering time for a child development center or community service nonprofit organization

Conducting scholarly research on an externally awarded contract or grant

Promoting the mission of an auxiliary organization through committee or volunteer work

Serving as an elected or appointed student leader
How Do I Qualify for the Award?
In order to qualify, you should:
be a full time CSU student (Undergraduate) taking at least twelve (12) semester units or nine (9) quarter units.

be a sophomore or junior at time of application.

have a minimum 3.0 GPA.

be in good standing with your university.

be able to demonstrate past service to a CSU auxiliary organization or non-profit organization.
To apply for the scholarship, contact Debbie Brighton (dbrighton@sdsu.edu) before Oct. 7, 2021.