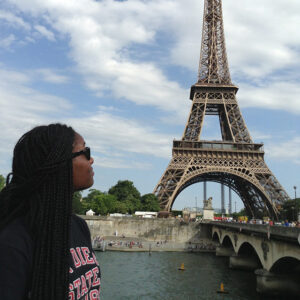 The application deadline of March 15 is rapidly approaching for faculty-led summer study abroad programs through SDSU's College of Extended Studies to such locations as China, Cuba, the Dominican Republic, and Spain.
"I had never been so far from my family. I thought I would miss home, but I was so busy and having too much fun that I didn't miss home," said SDSU student Melanie Marquez, who studied abroad in China. "I was never alone, and the city of Shanghai was very welcoming."
You will earn SDSU resident credit for the course(s) that you complete as part of your faculty-led study abroad program. This means you do not need to transfer credit to SDSU; the course will appear on your transcript just like any other course taken on campus.
There are many study abroad options available through SDSU's College of Extended Studies and the main SDSU campus to help you enhance your education, build your resume, develop self-awareness, and increase your understanding of other cultures.
"There were students from different countries, so there were a lot of people to get to know. I definitely became close to some of those fellow students," said SDSU student Angel Bonilla, who studied in Madrid, Spain. "One of the most valuable experiences I learned was to take chances and not be afraid of stepping out of your comfort zone. It was a life-changing experience – I experienced new things while meeting new people from all around the world, which influences how I will now look at things."
State and federal financial aid may be available to qualified students who travel through College of Extended Studies programs. Even if you are not currently receiving financial aid, you should contact the Office of Financial Aid and Scholarships in Student Services room 3605 or by phone at (619) 594-6323 to check eligibility.
Some of the summer faculty-led study abroad programs through the College of Extended Studies include:
China: Shanghai Summer Program; May 30-June 14
Learn about Chinese history, culture and business practices in an exciting program taught in English by SDSU professors and scholars from China.
China: Summer Service Learning Program; July 8-28
Small teams of SDSU and Tsinghua University students will travel to rural areas throughout China to provide language and technical training to students of all ages.
Cuban History, Culture, and Society; May 20-June 10
Students will be exposed to the contemporary health care, education, and political systems of Cuba through direct contact with faculty and professionals within Cuban institutions in Havana.
Dominican Republic: Global Leadership and Diversity Identities in Santo Domingo; June 1-14
This adventure will examine the history, culture, politics, economics, education, and arts in the Dominican Republic, with particular emphasis on the West African impact on Dominican culture.
France: International Entrepreneurship in Paris, July 5-17
The objective of the course is to teach students how to adequately research, assess, and analyze entrepreneurial opportunities in the global marketplace. This is accomplished in France and Belgium through lecture, cases analyses, company, and agency visits.
Ecuador: Sustainability, Global Citizenship, and Community Empowerment; July 20- August 8
Students live with local families in the Amazon jungle, the Andes mountains, and the Galapagos Islands, and undertake life-changing service activities and coursework relating to cultural and ecological conservation and sustainable business development
Mexico: Sustainable Development in Loreto; June 4-12
Students in this program will have an opportunity to directly examine ecological, social, and economic sustainability issues facing Loreto and develop solutions while working on a regional environmental sustainability assessment project, in collaboration with faculty and students from UABC Sur.
Mexico: Life Sciences and Entrepreneurship in Ensenada; July 12-18 & August 29
This is an intensive one-week program strategically designed to provide students with a comprehensive overview of business matters related to the life science and technology industries.
Morocco: Art in the Context of Globalization & Social Change; May 24-June 6
This seminar will include visits to a number of locations within Morocco, situating the learning in a variety of contexts that juxtapose traditional and modern, city and nature, and exploring the diverse ethnic and religious traditions of the region.
Spain: Spanish Language Immersion in Madrid; May 31-June 27
Students will be provided a rich cross-cultural experience while taking courses at the Centro de Estudios Hispánicos, located at the Dehesa de la Villa campus of the Universidad Antonio de Nebrija.
United Kingdom: Study Abroad in Edinburgh; July 19-August 16
Edinburgh, a UNESCO World Heritage City, is uniquely well suited to a study abroad program focused on urban culture, history, and geography. Coordination of the program with Edinburgh's summer festivals will allow students to explore this vibrant, modern city.
United Kingdom: London Summer Program; June 13-July 12
The cultural and historical impact of London is dazzling, and students will learn about its richness in art, music, theater and literary history, among other topics.
For information on all summer study abroad programs offered through SDSU's College of Extended Studies, call (619) 594-0540 or visit neverstoplearning.net/studyabroad.