After graduating from Eastlake High School in 2017, San Diego native Cristian Lugo enrolled at Southwestern College and focused on studying physical therapy with the goal of becoming a kinesiologist. 
But that interest soon faded, and Lugo found himself working as a DJ at local parties, weddings, and other events, all while planning his next move.
When the COVID-19 pandemic hit in early 2020 and all of his DJ gigs were canceled, Lugo realized he needed something more secure as a career.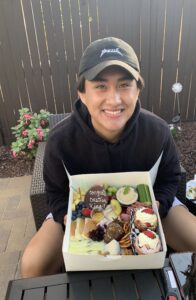 "Just seeing how fast it all went away, I realized I needed something to fall back on," Lugo said. "I can't have just this."
Transfer to SDSU Global Campus
While at Southwestern, Lugo, 24, saw posters advertising SDSU Global Campus and jumped at the opportunity to earn an SDSU degree while studying online. He transferred to SDSU Global Campus in the fall of 2021 and is set to graduate this weekend with a Bachelor's in Communication.
"I didn't step on campus at all for any classes," he said. "It was bittersweet. I knew I was finishing my classes a lot faster than I could do them on campus because one semester is cut down to two classes over 8 weeks. And it was cool knowing that I was going to graduate from SDSU, but part of me did wish I was on campus."
Another advantage Lugo found in his online classes was that his fellow students took their classes more seriously than those he had classes with at Southwestern. That drive to succeed was infectious and helped keep Lugo on the right track toward graduation.
"It was a really cool experience working towards my bachelor's at home," he said. "Everyone was in it to work and get their work done, no one was in there to mess around. It made it feel a lot smoother."
Putting it into Practice
Lugo is one of the head coaches for the Southbay Outlaws Youth Lacrosse team and said he has already seen his new Communication skills put to use in that role. 
"I've seen myself implementing a lot of what I learned in class into my coaching," Lugo said. "That was encouraging, just to know that the program was working."
Keeping his Options Open
Lugo gives special thanks to his mother Claudia, father Albert, brother Giancarlo, and girlfriend Alejandra for their support and said as for his post-graduate plans, he's keeping his options open and seeing what opportunities come his way.
"I tend to do what's in front of me right now then worry about what's next," he said. "The biggest thing to me was just getting that piece of paper. In terms of finding a job, having this will put me one step ahead of the person who doesn't have it. That's really important to me."