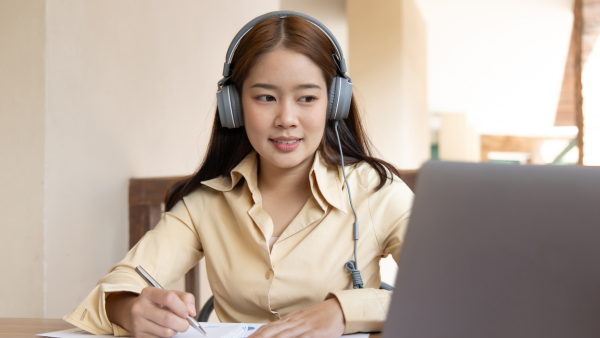 In today's fast-paced world, it is not uncommon for students to juggle multiple responsibilities at once. Many college students hold down jobs, while others also must keep up with family and other personal obligations along with their academic responsibilities.
While it's true online students can benefit from self-paced learning from the comfort of their own home, they are tasked with the responsibility to find a balance between education, life and work.
Earning an education, including in an online setting, may become difficult to manage. So if you find yourself having trouble balancing your commitments, here are five tips that may help.
1. Set Reachable Goals
In order to set yourself up for success, it is essential to ensure that your goals and commitments are realistic and attainable based on your current lifestyle.
Avoid taking on too many responsibilities so that you are able to stay motivated and focused on your goals in achieving higher education.
"Students should define what goals help them understand and obtain their short- and long-term goals. Students can use the SMART guide to map out their plans," said Global Campus Student Success Advisor Tamika Balderamos. "SMART stands for specific, measurable, achievable, relevant, and time-bound."
2: Communicate Your Needs
Being an online student isn't easy, and it is important to advocate for yourself to your professors. Your professors may aid your success in a program as long as they are equipped with information about your individual situation as early as possible.
It is vital that you are proactive in communicating your needs from the start of the course. Ask questions, provide feedback, and share your concerns. This will allow your professor to understand what help you may require in the course depending on your individual needs.
3: Keep a Detailed Schedule
Organization is key when it comes to online courses. It is easy to miss deadlines and fall behind on assignments when you have the flexibility to learn on your own time. Keeping a detailed schedule can ensure that you stay on track, organized and up to date with coursework.
Digital calendars are a useful tool to help remind yourself of meeting times and deadlines.
SDSU Global Campus offers students access to Google Calendar, a valuable resource for maintaining a detailed schedule. Google Calendar has an array of features which include making to-do lists, scheduling zoom appointments, setting reminders, taking notes and more.
4. Designate a Study Space
Designating a space to study is helpful when it comes to increasing your productivity and limiting distractions.
When creating your study space, it is most important to consider the location you chose. Look for a well lit room with a flat surface and some experts say don't study in bed, which may cause issues with falling asleep and lead to sleep deprivation. It can also cause your mind to drift off and wander which decreases how productive you are.
It is a good idea to study in a well lit room so that you may avoid straining your eyes, and so that you may feel alert and focused. Another tip in creating a good studying environment is to use background noise. Listening to music may limit distractions around you.
5. Maintain a Healthy Lifestyle
Staying healthy will give you the best opportunity to thrive in reaching your goals. When you are physically healthy, you are better mentally equipped to perform in your courses.
Self care is an essential element in achieving your goals. Make sure that you prioritize getting enough sleep in order to avoid sleep deprivation. Sleep is crucial to improving your academic focus, and it will allow you to think more clearly. This may help you stay on top of your assignments and give you more energy to complete things outside of your academics.
Giving yourself breaks is necessary in not overloading yourself and practicing self care. Going outside or finding a change in scenery breaks up the monotony and stress of working or studying. Taking these kinds of breaks will alleviate stress and minimize burnout.
Seeing loved ones and catching up with friends is equally important. Making sure that you maintain a positive mental health throughout your academic journey will help you keep sight of what you hope to accomplish.
Balancing life, work and school may be difficult at times, but it is important to stay focused and remember your goals in achieving higher education. Keep these tips in mind to aid you in your educational career alongside other elements of your life.