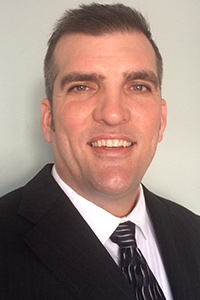 While going to school full time at San Diego State University, Mark Rivaldi began working at a print manufacturing company in El Cajon, Calif. He worked his way up the ladder to the position of director of procurement, ultimately investing 17 years with Graphic Business Solutions Inc. Then he "hit a plateau."
"I always aspired to continue my education and develop my skills but I was stuck in a rut," said Rivaldi. "So I looked to my alma mater for a solution. I found that the SDSU College of Extended Studies' motto fit my own: 'Never stop learning.' This is when I found my new direction that would build on my international relations skills from college, and acquisition skills from my private sector employment."
Rivaldi enrolled in the Contract Management program, and soon afterward secured a job in the Procurement department of the San Diego Housing Commission.
"I had a couple contract management courses under my belt at the time, which I was able to add to my résumé," said Rivaldi. "I do believe that being enrolled in the program and having a focused direction toward a career in contract management helped me to be more employable. When I was offered the position, I was overwhelmed with joy and pride to work for such a great public agency."
Rivaldi shares his experience in SDSU's Contract Management program.
What are your primary duties as a contracts analyst for the San Diego Housing Commission?
My primary duties are managing/auditing the procure-to-pay system, contracts for certain departments, and asset disposition. With each class I complete in the Contract Management program, I gain more experience that I can directly apply. My skills and duties are always expanding and I'm excited about my future for the first time in a long while.
Can you give an example of something you learned in class that immediately translated to your job?
One prime example is the give and take between buyer and seller, and the movement between firm fixed-price and cost-reimbursement contracts. To be able to know where each party is coming from in the development of a contract is essential in building relationships with vendors and developing a great contract.
How many hours per week does SDSU's Contract Management program take and how feasible is it do with a full-time job?
Depending on occupational and family responsibilities, the program usually allows two classes per week for those working no more than 30-40 hours per week, with each class being three hours — that does not include homework. At this rate, one could technically finish the program in eight months. I am a married father of two, and one course at a time is perfect for my family and will still allow me to complete the program in a little over a year. I'm lucky to have a very supportive family.
How important is it that the program instructors actually work (or did work) as contract managers in local companies?
It was very important and immediately apparent that all of the instructors came from reputable organizations in San Diego. Their years of firsthand experience came through in all of their teaching styles. It seemed pretty evenly divided between instructors from both private and public agencies, which gave me insights into both sides of the contracting process and a well-rounded perspective.
Which industries do you think would benefit most from having contract management professionals on staff?
Having an experienced in-house contract manager who can acquire resources efficiently, properly, and at a price and method that's a win-win for both parties would be big benefit for any organization. Finishing this program and moving on to become a Certified Federal Contracting Manager (CFCM), I know I'll be able to be a great benefit.
Did the program lead to networking opportunities with fellow students or instructors?
I have no doubt this program will lead to crucial networking opportunities with fellow students and instructors. This is a good reminder now that I'm nearing the end of this program that I do need to offer my business card to my fellow classmates and instructors and hope to keep the lines of communication open. I know I will be working with a lot of fellow classmates and instructors in the future and they will be a good resource for me and SDHC. I hope to do the same for others. I'm already looking forward to my next SDSU program in Project Management.
Fantastic. What do you hope to gain from the Project Management program?
Project management and contract management really do go hand in hand on a daily basis in today's new business model. In taking the Project Management program, I hope to gain insight into working with project management co-workers and professionals that we're contracting with.
Anything else you'd like to add?
I'm excited about my future and I owe a great deal of thanks to SDSU and the San Diego Housing Commission! Thank you!