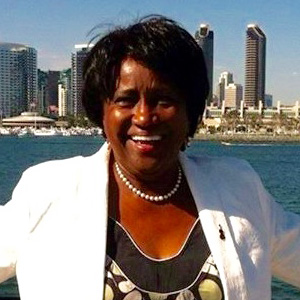 Being an Osher Lifelong Learning Institute (OLLI) member at SDSU has opened doors for Patricia Burton.
Taking the Memoir Writing class from Kathi Diamant resulted in Burton writing several memoirs about her childhood experiences, plus a children's book.
She also took part in a KPBS television show about a walking tour of different sites in Balboa Park because of her OLLI connection.
Please give us a brief history of your education and career.
I have a B.S. degree in human development from the University of Hawaii; and from 1987-89, I did graduate study in public health, specializing in health promotion at San Diego State University. From 1993 to 2008, I was a family health educator for the Neighborhood House Association's Early Head Start program, where I supervised the NHA's Services to Pregnant Women program. I was selected to speak at the 2000 "Zero to Three" Head Start Institute in Washington, D.C. and the 2001 California Head Start Association annual conference in San Diego.
What was your career aspiration as a child?
To become a classical pianist. I was offered a scholarship to Bishop College in Texas, but was burned out on piano by the time I graduated and went to business school instead.
Do you have favorite Osher topics or do you just take them all?
I've taken a wide variety; however, Memoir Writing [taught by Kathi Diamant] is at the top of the list. As a result of taking the class, I've written several memoirs about my childhood experiences, which have been a delight to family members. I've written a children's book from one of the memoirs — Patsy Watsy's Third Grade Travel and Adventures. It's about my opportunity to travel by plane and train. The plane trip was a gift from an older brother, and the train trip (a surprise from my mother) took me from Oklahoma through several states to Michigan and then to Canada. I'm working on getting Patsy Watsy published.
Can you share three fascinating facts you've learned from OLLI courses?
1.  After the decline in the tobacco industry, Philip Morris acquired General Foods and Kraft.
2.  Hiding fat in processed foods became industry-wide.
3.  Beef Products Inc. began treating processed meat with ammonia to kill pathogens that might be present – cancer risk!
What do you like best aboutOLLI?
My life has been enriched by the diverse learning opportunities, such as exciting courses, lectures, book clubs, special events, and more. The opportunity to continue learning and growing after age 50, at an institution of higher learning is priceless! Besides the reward I get from the learning experience and the friendships I've made, OLLI opened a wonderful opportunity for me. I was able to participate in the KPBS show San Diego's Historic Places. We filmed a walking tour of different sites throughout Balboa Park, highlighting the various contributions of Kate Sessions and her role in development of the park. This was a very fun and rewarding experience.