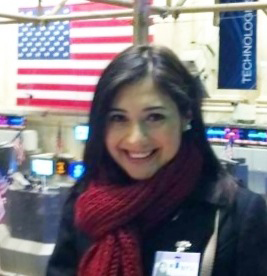 Originally from Mexico, Denise Flores moved to San Diego and studied international business at SDSU. She graduated in 2007, and became an assistant trader at an investment firm.
Flores decided to go back to school, since her first major before switching was marketing. She is currently working on earning two certificates from SDSU CES, Marketing and Media, and Digital and Social Media (DSM). Currently, she has finished two DSM classes, Social Media Strategies and Video Production.
Courses in the Digital and Social Media program are basic theory but most of the work done is hands-on. Flores adds, "For video production, you learn the basics and then you go out there and shoot a video and learn what works and what doesn't, which I've never done and it was challenging but very fun. And for the Social Media course, I never used social media from a business perspective. I learned there is so much you can do with social media to market a business. It was very eye opening."
Students often mention that one of the advantages of taking a DSM course is the diversity of fellow classmates.  "There were students in the 50+ range, who are catching up on the new things trending. There were journalists who are trying to go digital. There were people who are trying to be more competitive by learning new skills. And then there were young people trying to gain a competitive advantage in their field or switch over to a new field," says Flores.
Regarding whether a certificate is competitive in today's workplace, Flores adds, "I was deciding whether to switch careers, go to graduate school or earn another undergraduate degree. I'm happy I chose this route. The programs are so complete and up-to-date. I feel more competitive already."