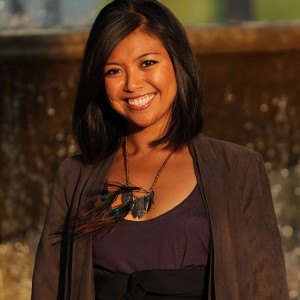 Leeanne Antonio graduated from SDSU with a bachelor's in Communication with an Emphasis in Advertising in 2005. At SDSU, she was a member of Lamda Pi Eta (National Communication Association) and competed in the National Student Advertising Competition with the American Advertising Federation. She believes that her degree and experience at SDSU built a solid foundation for her career in advertising and marketing. Antonio's first job out of college was at a local advertising agency, MeadsDurket, where she continued to learn the fundamentals of branding and traditional media.
"A few years into my career the industry began to change as well as the dynamic in which we communicate with a consumer.  Things began to move a lot faster and became more immediate with the rise of smart phones, social media, and mobile apps. I consulted for a few months with the San Diego Ad Club and various clients to help them get started with social media before I landed a new career path at LEGOLAND® California Resort," Antonio adds.
After a couple years in consumer marketing at LEGOLAND California Resort and recently taking over the digital marketing and eCommerce efforts, Antonio wanted to have a better understanding of eMarketing since she would be managing it on a day-to-day basis so she enrolled in the Increasing Traffic to Your Website course.  Antonio says, "I have a personal interest in the ever-changing digital world and am keen on keeping up with industry trends. It was a perfect opportunity for me to take a class and ask questions regarding SEO and learn new techniques to help optimize our efforts."
When asked if she is using what she learned in class, Antonio replies, "I learned there are certain aspects of your website that will not influence your ranking in search engines but can be utilized as branding and marketing messages, the importance of keeping content fresh and putting continuous effort behind your overall SEO strategy.  The most relevant information I learned in this class was the significance of backlinks.  By creating links others can share, the more the search engines recognize your relevance to a specific search term, resulting in better rankings. The methodologies have helped me understand a high level of the technical and coding side as well as providing me with the knowledge to determine and produce a long-term strategy. This will definitely help in the planning process for next year when looking to balance out our SEO and SEM strategies."
Regarding her classmates and instructor, "There was a great mix of students in this class spanning from undergrads, post grads looking to build their skill set and small business owners and entrepreneurs. Their different stories, industries and challenges inspired me to think of overall strategies that are outside of my scope of work. And my instructor, Michael Martin, was great. He provided us with top-level information. I would often email Michael during the work week to ask for online resources or clarify certain concepts we went over in class and he was always responsive and forthcoming. He has a lot of great experience, is always up to date with industry trends and is truly a wealth of knowledge when it comes to SEO," Antonio says.