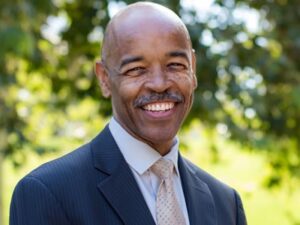 It takes all of two minutes talking to Dr. Joseph Johnson to figure out what he's about — he's a champion for equity in education and school transformation.
Johnson, founding executive director at the National Center for Urban School Transformation (NCUST), has made his mark on not one, not two, but hundreds of schools across the country.
Johnson previously served as a professor of Educational Leadership at SDSU, dean of the College of Education, and as SDSU's interim provost and senior vice president. In July of last year Johnson retired from university administration to focus solely on NCUST.
Educational Excellence Takes Equity
NCUST's mission is to equip urban schools with the tools to give all students the opportunity to achieve academic success. NCUST also prepares students for their next endeavor, whether that be in secondary education, the workplace, or their communities.
"The first pillar of what we do is identify, celebrate, and try to learn from these schools that achieve great results," said Johnson. "The other part of our work is we try to take what we learn from studying those schools with great results and help other schools."
Model schools receive an "America's Best Urban School Award" from NCUST by achieving academic levels above the state average. The key? Although many of these schools serve low-income students, all students, meaning students from every race, every income group, achieve higher academic levels than the state average.
Since 2005, 167 schools in 25 different states plus Washington, D.C., have received the award from NCUST. Now, NCUST is expanding on their efforts to improve national urban education by offering two new school transformation certificate programs in collaboration with SDSU Global Campus that are focused strengthening school leadership:
National Principal Certificate for Equity and Excellence

National Principal Supervisor Certificate for Equity and Excellence
"When we look at what is really critical about helping schools improve, we keep going back to leadership," said Johnson. 
The application deadline for the certificate programs is Monday, Sept. 14. 
NCUST is tackling the challenge of virtual education. With instruction moving online, there's another layer added to achieving equity for all students. NCUST hosts webinars, available to teachers all over the country, on how to teach virtually.
School Transformation Resources for School and District Leaders
NCUST offers another resource for educators: a book Johnson co-authored that shares the most effective practices from "America's Best Urban Schools." Teaching Practices from America's Best Urban Schools, written by Johnson, Cynthia Uline, and Lynne Perez, is a go-to in the toolbox for education equity with today's education challenges. School and district leaders can apply these best practices to urban and non-urban schools serving diverse student populations.
"When we got information about what teachers were doing with their virtual instruction, we heard example after example that was so consistent with what we had written about," said Johnson.
The passion Johnson exudes for his work is clear. It's also clear that the time is now for necessary changes to education. 
"It's so critically important right now for our nation to do a better job at educating diverse populations of children. If we fail to do so we help create more division, more of a permanent underclass, and it's not good for our nation economically, socially, or politically," said Johnson.
Johnson has worked with many schools, many educators, and many students since starting NCUST 15 years ago. His favorite part of the job, however, remains the same.
"The best part of my job is being able to go into these very high performing schools and see the powerful difference they're making for children, for families, and for communities," said Johnson. "When you see these children you realize they have hope for a better future."
Start Your Journey Towards Better Educational Practices
If you're a school or school district leader who's interested in promoting equity at all levels of your educational community, NCUST wants to help.
Visit neverstoplearning.net/ncust to start your journey towards school transformation.