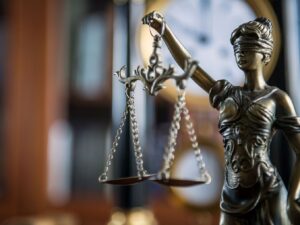 SDSU Global Campus teamed up with SDSU College of Professional Studies and Fine Arts for an online degree completion program that offers a Bachelor's Degree in Criminal Justice.
The degree completion program provides students without a bachelor's degree the opportunity to earn one while exploring ways the criminal justice systems provide justice, or fail to do so. Course topics range from crime and behavior to policy development to nonprofit organizations and government. Students can complete the entire program in as little as 13 months.
A student in this program may be a police officer without a degree, a pre-law student, a student interested in social services agencies and everything in between. The program is designed to fit every kind of student regardless of where they're at in life.
SDSU School of Public Affairs Director and SDSU Global Campus Program Sponsor Sherry Ryan oversees the program.
"This program is perfect for students who are trying to balance a lot of competing interests," said Ryan.
Access to this program is expanding beyond SDSU's online program. The degree completion program is offered at Southwestern College as a microsite program in Fall 2020. This online program promises the same quality education as the program on campus.
"Students are getting an identical curriculum to students on campus at SDSU," said Ryan. "They'll also get a significant amount of Public Administration classes and leave with a minor in Public Administration."
The partnership between SDSU Global Campus and College of Professional Studies and Fine Arts has more in the works. Ryan, also a lecturer in the School of Public Affairs, is working on a course about race and policing in partnership with SDSU Global Campus. Details and timelines for the course are not yet finalized.
Finish Your Criminal Justice Degree
The partnership between SDSU Global Campus and College of Professional Studies and Fine Arts allows for more access, more flexibility and high quality learning for criminal justice degree completion students. Applications for spring 2021 are open until Oct 15; applications for fall 2021 are open until April 30, 2021.