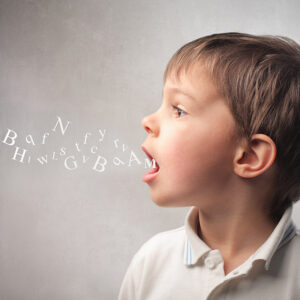 Babies are genius mimics and can quickly recognize and produce the basics sounds of their native language.
If you can't distinguish "caught" from "cot," you're likely from California.
Some victims of stroke, though unable to speak, can still sing.
Human speech is a biological miracle. It requires four different bodily systems to create, thus creating myriad opportunities for things to go awry — by accident, disease, or genetic disorder. Whether it's an autistic child who has never spoken, or a stroke victim who must learn to speak again, help comes in the form of a speech-language pathologist.
The profession was ranked No. 23 in Best Health Care Jobs and No. 38 in 100 Best Jobs overall by U.S. News & World Report in 2017. Several factors contribute to the strong need for speech-language pathologists. Older populations — prone to medical conditions that result in speech, language, and swallowing problems — are increasing. Medical advances are improving the survival rate of premature infants, and trauma and stroke victims, who then need assessment and possible treatment. The early identification and diagnosis of speech, language, and swallowing disorders in young children is increasing. Even more career opportunities exist for those who are bilingual.
To meet the demand, SDSU offers an online Speech-Language Pathology Essentials program, which has already quadrupled course offerings since its debut in fall 2016. Led by lecturers from SDSU's graduate program in Speech, Language and Hearing Sciences — ranked No. 1 in California and No. 24 in the nation by U.S. News and World Report — the online program enables students to earn credit and meet prerequisites in preparation for applying to graduate programs all over the United States.
"Some of my students are returning to school after years away, and others are completing their undergraduate degrees," said instructor Sam Engel. "Because our courses can be taken from anywhere — I've had students from as far as Japan! — they're excellent for those interested in pursuing graduate training or even for students who are considering a career change and want to determine if it's a good fit for them." Engel teaches Introduction to Language Science and Foundations of Language Science.
"This program has a special meaning for me because I also entered the field with another background, and I needed to find a way to complete the coursework necessary to earn an M.A. and begin my career," said instructor Robert McKinney. "Our profession is always made stronger when the people who enter it have a wide range of experience and knowledge." McKinney teaches Phonetics. "It can be a challenging subject, but students are rewarded for their efforts with a new understanding of the speech stream they encounter throughout their lives."
McKinney added, "Online class sizes are significantly smaller than the larger classes I teach at SDSU, and this allows us to create a sense of community even though we have considerably less live interaction. This format also has the advantage of allowing students to master the material while still keeping up with their work or personal responsibilities."
Anatomy and Physiology of Speech instructor Dorothy Yang noted, "The consistent feedback has been that students appreciate the courses offered online because it provides them the flexibility and freedom to work toward their professional goals in their current season of life."
Student Marin Fisher concurred. "I feel like I gained as much knowledge in the eight weeks as I would have in a full semester, but I was able to fit it around my schedule. And it's great that I'm able to keep my full-time job and support myself without having to take out loans. I don't feel like I'm going into debt before I even start my master's."
The median salary is $74,680, while the best-paid SLPs earned more than $116,810 in 2016.
The spring 2018 session begins Jan. 22. Courses are offered through SDSU's College of Health and Human Services, in conjunction with SDSU's College of Extended Studies. The SLP Essentials program is open to individuals not currently enrolled in an SDSU degree program. No application is required. For more information, visit neverstoplearning.net/SLP. For questions, email slp-online@sdsu.edu or call (619) 594-0243.