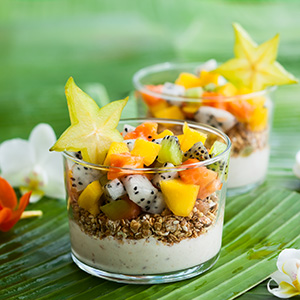 Whether you're a personal trainer or registered dietician seeking to guide clients, or pursuing a personal a fitness goal, San Diego State University's online nutrition program will enhance your expertise in crafting a nutritionally-balanced eating plan. From the science to the media's mixed messages, learn everything you need to know for optimal wellness and performance.
Instructor Melissa Halas-Liang Melissa Halas-Liang is a nationally recognized nutrition educator, registered dietitian, and certified diabetes educator. She's a spokesperson for the California Dietetic Association, certified in Childhood and Adolescent Weight Management and Wellness Coaching, and served as a panelist on childhood obesity for TEDMED.com. She also partnered with the American Institute for Cancer Research to help families prevent nutrition-related cancer.
"I have many different types of students," said Halas-Liang of SDSU's online program. "Many are personal trainers, but I also have wellness directors, MBAs, and nurses, looking to better develop their institution's program. Some attend for CEUs and I do get the occasional person who decides to take the course to improve their life or is exploring a new degree and wants to gain some exposure to nutrition material before further investing."
Students can choose from two certificate options:  Nutrition for Optimal Health and Wellness; and Nutrition for Optimal Health, Wellness, and Sports — with an emphasis in sports nutrition and performance. The five-week courses in each certificate program are online, so students can register at any time.
"I love going at my own pace but still gaining lots of material on nutrition," said student Shelly Matthews. "I've been able to practice my knowledge in my everyday lifestyle, and I encourage others to become more informed about their nutritional diet so they can make the best choices for their lifestyle."
SDSU's College of Extended Studies reaches out to San Diego, the nation, and the world with a wide variety of lifelong learning opportunities and more than 50 certificate programs for career advancement. Topics range from contract management, construction, and craft beer, to grant writing, marketing, and human resources. Many of the programs are online. The CES also offers one of the largest ESL programs in the United States through the American Language Institute; and university-quality courses to students age 50 and better through the Osher Lifelong Learning Institute. Other opportunities include study abroad, corporate education and access to regular SDSU classes through Open University.
For more information or to register, visit neverstoplearning.net/nutrition or call (619) 265-7378 (SDSU).