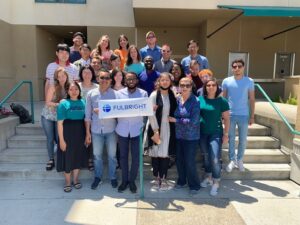 About two dozen graduate and doctoral students from 17 countries are studying at SDSU Global Campus this summer as part of a Fulbright Scholars program.
The 3-week Fulbright English for Graduate Students Program, which was conducted from mid-July through early August, brought international Fulbright scholars together to engage in linguistic, academic, and cultural preparation prior to beginning their graduate or research programs at American universities.
Before moving on to continue their graduate and doctoral studies at universities across the United States, the international students spent part of their summer at SDSU learning the ins and outs of American culture and the United States education system and doing some sightseeing around America's Finest City.
SDSU is just one of eight American universities authorized to host the program.
"The Fulbright participants are very grateful," said Luis Vega, Director of International Partnerships for SDSU Global Campus and acting director of the EGSP Fulbright program. "They told us the classes, the seminars and assignments have been very helpful and enriching, and they also enjoyed the cultural and extra curricular activities we had planned for them."
Preparing for Success Across the Country
After spending three weeks at SDSU, the Fulbright Scholars will move on to universities across the United States where they will be studying in a wide variety of disciplines, including engineering, law, education, history, arts, biology, environmental science, biomedical engineering, public admin, social work, economics, and more, Vega said.
Members of the group will be studying at some of the nation's most prestigious universities, including Georgetown University, the University of Notre Dame, the University of Georgia, Rice University, and Michigan State University, Vega said.
The students come from many nations around the world, including Panama, Indonesia, Argentina, Brazil, Japan, and more, Vega said. 
Fulbright Scholar Laura Delince from Santa Domingo in the Dominican Republic is off to Carnegie Mellon University in Pittsburgh, Pennsylvania to pursue a Master's degree in Educational Technology and Applied Learning Science.
"Unfortunately, my area of study is not very developed in my country," Delince said.
After earning her master's, Delince plans on working in the field of business learning with a focus on higher education.
SDSU has hosted the program before, starting in 2015. Due to travel restrictions imposed for the COVID-19 pandemic, officials said the program was not held in 2020 or 2021 but returned to SDSU this year.
"It's always wonderful to see Fulbrighters from such diverse geographic, cultural, and academic backgrounds come together during these programs to enthusiastically engage in academic and intercultural learning, which is what Fulbright is all about!" said Katie Courvoisier, Lead for Pre-Academic Programs at the Institute of International Education, which administers the program.
About the Program
This activity is sponsored by the U.S. Department of State's Bureau of Educational and Cultural Affairs as part of its Fulbright Program, the U.S. government's flagship international exchange program supported by the people of the United States and partner countries around the world. For more information, visit fulbright.state.gov."
This activity is administered by the Institute of International Education (IIE).