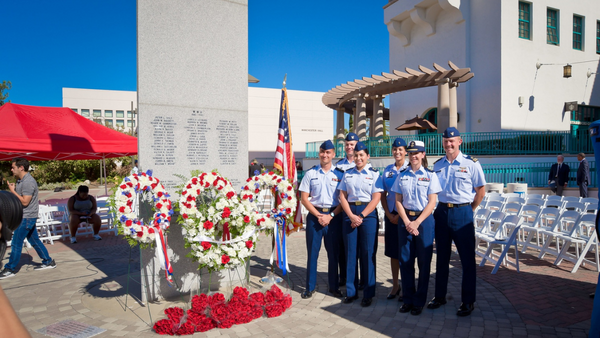 Global Campus students enrolled in for-credit, degree-bearing programs may qualify for the services provided through the Joan and Art Barron Veterans Center.
The Joan and Art Barron Veterans Center is committed to supporting active military members, military veterans, military spouses, and dependent children in the areas of higher education in outreach and admission, benefits related to the GI Bill®, academic success, graduation, and a career. The center's mission is to be the best in these areas in the eyes of the SDSU's student-veterans, staff, alumni, and donors.
The center serves veterans on campus and worldwide, with many services offered online for the convenience of Global Campus students who may not be able to visit in person.
The Joan and Art Barron Veterans Center is open for business Monday – Friday, 9 am to 5 pm for in-person meetings, phone calls, or via email. The center is located at the southwest corner of the Student Services West building, Room 1661. 619-594-5813, veterans@sdsu.edu.
Jaycee Bagtas, a School Certifying Official with the SDSU Veterans Center, provided a list of key services that are offered by his office for Global Campus students who cannot make it to the office on campus.
The Veterans Center houses a lounge called the Jack McGrory Bunker where students can relax, watch TV, socialize, study, etc. There is also a conference room for students to use for group projects, studying, and meetings, and a kitchenette where students can heat up their packed meals or grab a snack. 

A majority of undergraduate and graduate programs offered to Global Campus students can be certified for students using VA educational benefits and or military tuition assistance. Certificate Programs must be approved by the VA in order to be certifiable. To see which programs are approved and can be certified for benefits, please contact the Veterans Center. For more information, please contact Jaycee Bagtas (

jbagtas@sdsu.edu

). 

School Certifying Officials at the Veterans Center also provide student advising services on academic courses, campus life, and the use of their benefits. 

For Engineering students, the center also houses the Troops to Engineers Coordinator, Joshua Imes (

jimes@sdsu.edu

). The Troops to Engineers program is open to undergraduate and graduate veteran students pursuing engineering. It provides specialized career assistance to help veteran students improve their professional development skills, obtain paid internships, and secure engineering-specific employment upon graduation.
Editor's Note: This article is part of an ongoing blog series highlighting SDSU campus services that are available to Global Campus students who are enrolled in for-credit, degree-bearing programs.
See other posts in this series:
GI Bill® is a registered trademark of the United States Department of Veterans Affairs (VA). The absence of the registration symbol ® does not constitute a waiver of VA's trademark rights in that phrase.