They say things that take a long time to come to fruition are aged like fine wine.
For SDSU Global Campus graduate Al Fischer, his journey to becoming a wine expert took a while to bear fruit, but it turns out it all worked out just fine in the end.
Fischer, 54, was more a fan of craft beer than wine until about 2015 when his partner, Julie Peggar, introduced him to wine tastings and her love of the wine industry.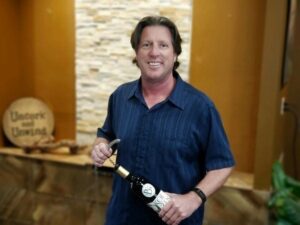 "I wanted to learn what was going on when I was listening to what other people were saying," Fischer said about his introduction to wine tastings.
Looking to get up to speed on his partner's passion, Fischer searched online for wine certification programs and came across the SDSU Global Campus Professional Certificate in the Business of Wine program.
He enrolled, took his first course in the fall of 2019, and found the courses and the program overall to be exactly what he was looking for.
"The fact that in the program, most classes are three to four weeks long, you didn't take a lot of time out of your life to do it, which was nice," Fischer said. "The subject matter was intriguing and interesting and with the electives, you got to pick which regions of the world were most important for me to learn. The hardest part was choosing the ones you wanted to take, because for me, they all seemed like something I wanted to learn about."
By early 2020, when his wine classes were scheduled to resume, Covid-19 had forced most of the in-person wine-tasting classes to be canceled.
A wine trip to hike the Camino de Santiago in Spain got put on hold due to travel restrictions put in place due to the pandemic, but Fischer's drive to learn more about wine didn't fizzle out.
When the wine program courses resumed, Fischer restarted his studies and earned his certificate in the business of wine in the fall of 2022. He still plans to go back and take a few more elective courses that he didn't take as part of earning his certificate.
 "There are some more I want to go back and do just to round out my education a bit more," Fischer said.
New York — LA – San Diego
Born in New York, Fischer's family moved to Simi Valley when he was three. He started college at the University of California, Davis, before transferring to San Diego in 1988 to study at Grossmont College and then SDSU. 
He works as a sommelier and tasting room manager at Koi Zen Cellars in Carmel Mountain Ranch.
Fischer and Peggar are now not only partners in life but also in business. The couple runs Freaky People Grape Adventures, a Rancho Bernardo-based business offering customized private wine tastings, wine education, consulting, and wine tours. 
Fischer and Peggar are planning to finally do that Camino de Santiago wine education hike through Spain this summer and also offer local wine education courses, including WSET levels 1 and 2.
WSET Is The Recognized And Accredited Wine Industry Education Source For Professionals.
Level 3 is an advanced level qualification for professionals working in the wine industry and for wine enthusiasts.
This qualification has a minimum requirement of 84 hours of study time, including 30 hours of classroom or online delivery time with a WSET course provider.
Fischer holds a WSET Level 3 Award in Wines and also is a WSET Certified Wine Educator in wines.
Like Choosing a Favorite Child
Asking a wine aficionado like Fischer to pick their favorite wine can be a bit like asking a parent to pick their favorite child. But when pressed, Fischer – who has a daughter attending Cal State San Marcos – settled on one.
"I'd say a cool climate California Syrah, like from Dry Creek Valley in Sonoma County or Santa Rita Hills," he said. "It has totally different profiles. I just like the way that wine plays."