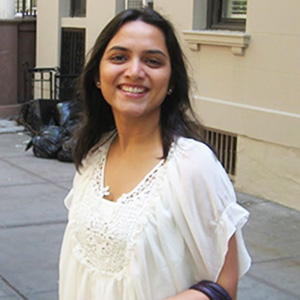 Vanya Goel moved to the U.S. in 2009, where she lives in San Diego and works as a software developer at San Diego Gas & Electric (SDG&E). Currently, she is pursuing a master's in computer science at SDSU. She earned an Advanced Certificate in Web and Mobile Applications Development from the College of Extended Studies at SDSU.
"I decided to enroll in the certificate program because the curriculum consisted of cutting- edge technology and promised to teach invaluable skills, which are currently in high demand. I always had interest in web technologies and this program appeared as an excellent conduit for learning these concepts. I was recruited as an intern at SDG&E to develop their android mobile app. I was selected because of the knowledge that I gained from these courses," says Goel.
The program's instructors are experts in web and mobile technologies, and the course curriculum offers many hands-on projects ranging from simple programming assignments initially to in-depth development and complete website and mobile applications. Project-based learning allows students to practice applying the theories and technologies discussed during lectures. Goel adds, "I took the iPhone programming and web courses. I used my new knowledge and applied it while developing the SDG&E Android app, which is published in Google play. I also developed a small web app for internal SDG&E usage."
The classes are a diverse mix of full-time students and professionals. Students are given numerous projects with the opportunity to work individually and/or in groups. "It was always so much fun to learn from people with different skills, since there were industry professionals in class. We were able to network and a few students landed various internships through relationships developed through interactions with these professionals throughout the certificate. The program provides real-world experience and opens up multiple doors to various opportunities," she adds.