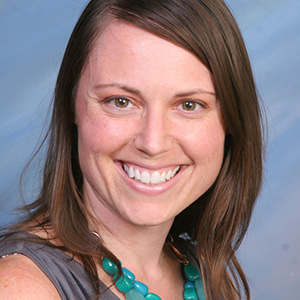 Carrie Hoff is a manager with the County of San Diego Health and Human Services Agency, where she leads the development of contracting policies and practices, and conducts procurement and contract management training and quality assurance reviews for a contract portfolio of over $400 million.
What do you teach?
I teach Procurement in the Project Management program.
What will a student learn in your class about procurement that he/she didn't know before attending your class?
There are two key things I try to emphasize. First, the importance that human relationships play in the contract process. This is particularly true when you are working with contract negotiations and when you have an on-going contract relationship with another party. If the human relationship is ignored, you can really disadvantage yourself. Second, the need to constantly maintain a dual perspective: What is it that you/your organization needs and what is it that your contractor needs? If you only focus on the needs of your organization, you will face greater challenges in reaching your objectives via the contract than you will if you are very clear on your contractor's priorities and can position your needs to also meet their needs.
What are the highlights of the procurement class?
For the students, I think the highlight is the ability to apply the concepts through the group project. If I had to guess the component that students remember the most, it would be the negotiation sessions they conduct among teams. I think that some students are surprised to see how invested they feel and to observe their own emotional and analytical reactions to the negotiation process. For me, the highlight is always the knowledge that the students bring to the class. It enriches every session and I love learning as people share their experiences and examples.
Tell me something about procurement/contract management that most people don't know?
I think that people can be surprised to learn how important the human relationships are in the contracting process. A person may initially think about the legal components of the contract, have concerns about specific wording of the contract, and be very focused on negotiating the best deal. Those things are important, but if they are done without connection to the relationship you need to build and maintain with your contractor, you can make some short-sighted decisions and miss out on some strategic opportunities.
What is unique about your class?
I really try to create an active, real-life learning environment so that students can apply the concepts of contracting. Real-life contract management requires a different set of skills than just discussing contract theory. My class includes a contract simulation to give students the opportunity to write or respond to a procurement, negotiate a contract face-to-face, and resolve a contract dispute in person.
Tell me a little about yourself (what makes you an expert in procurement).
I began working in contracting as a contract monitor at the County of San Diego in the Health and Human Services Agency. I've been working with contracts for about ten years and worked in a variety of roles. To be candid, although I have had a wide scope of experience, I feel like I am always learning. I learn something new with each contract and each problem. I think it makes the field of contracting very interesting – but it does require that you are constantly pushing yourself to think ahead. How will future technologies or business opportunities impact contract agreements, how should I shape contracts so that they can remain effective into the future? How are the changing objectives of my organization going to change our contracts? How do I prepare staff so that they have the contracting skill sets that will be needed in the next 3-5 years?
Why did you get into procurement?
I would love to say I had been focused on the contracting field since pre-school, but that is not the case. I feel like I fell into the profession, but once I began working with contracts, I really enjoyed it. Each person has an opportunity to shape their jobs and their career. I enjoy the opportunity to work with a lot of subject matter experts and bring that content together in a cohesive way. I've had a chance to work with very intelligent people who know their fields with amazing depth. As I gained more experience, I also saw how I could add strategic thinking to the mix and add value to the use of contracts at my organization.
As a contract manager – do you think like a contract manager in your everyday life?
Yes – and it doesn't make me the most popular person at the cocktail party. For example, when friends would talk about Tiger Woods after the news of his affairs became public; my comments about the morality clauses in his endorsement contracts were generally met with blank stares. Ditto for conversations about Kim Kardashian's prenuptial agreement. On the up side, I think my work with contracts has made it easier for me to be analytical about buying a house or a car – which can typically be stressful experiences.
What has been the most interesting thing about your profession?
In general, I would say that the most interesting thing about contracting is meeting and working with subject matter experts. For me personally, it has been interesting to become aware of the need to have a disciplined thought process and to work on strengthening my own. At any phase of the contracting process, you are dealing with what you know about the current situation, what you are speculating about the future, identifying the desired outcome for each party, and developing a strategy to leverage all of that for the optimum outcome.
What is the future of contract management?
Over the past 10+ years, there have been discussions about the change in volume of commodity based contracts and service contracts. There has been an increasing need for people who can work with complex service contracts, which can require a different type of thinking than purchase agreements. Personally, I also think the impact that the rate of technological development will have on contract agreements will be interesting – how do we create contracts that are elastic enough to account for changes in technology that impact the scope of services without being overly broad. As technology brings rapid changes to the way business is done, it can put an organization at a disadvantage if they need to open negotiations and continually update the contract. And yet, the contract is a living agreement and will need to develop over time to a certain extent. How do you strike that balance? It will take strategic, creative, and informed thinking.
What kind of personality do you have to have to be a contract manager?
It is helpful to have the ability to scope your thinking quickly and to be able to move from detailed contract requirements and back out to your organization's strategic objectives repeatedly. The need for this skill comes up during negotiation, when trying to problem-solve a contract compliance issue, and when trying to develop a procurement. I think there are two components to this skill set: 1) having the mental agility; and, 2) having access to your organization's strategic objectives and executives' priorities and challenges. The first component can be practiced – in part by taking the time to become familiar with the details of each contract and keeping up with the performance of your contractor. The second component will likely require some proactive work to seek out and ask about the strategic objective as well as current challenges and opportunities that are being identified. But the work a person invests in seeking out that information will deliver a big payoff in their ability to negotiate and manage contracts that move the strategic objectives of their organization further, in addition to delivering on the immediate project needs.