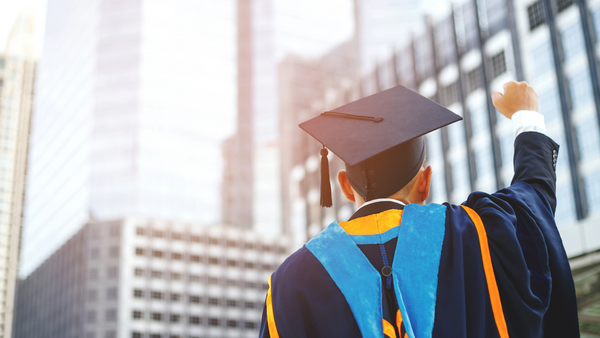 There are many reasons why college students might start working toward a four-year degree but then are unable to finish the program. Work and family obligations, financial challenges, burnout, and other factors can interfere with a student's ability to dedicate the time and resources necessary to complete a college degree program in four years. 
According to the National Center for Education Statistics, fewer than 40 percent of all students enrolling in four-year colleges graduate within four years, while more than half of students who start college drop out within six years.
Even if you weren't able to finish your degree as expected, a degree completion program can help you pick up where you left off and complete your degree. If you have previously obtained college credits, you are likely eligible to apply those completed credits toward your degree completion program without having to start over.
For millions of college students who started but didn't finish their college degrees, a degree completion program is a great option.
"I strongly believe that pursuing your education through a degree completion program brings a plethora of opportunities," said Olivia Salgado, an SDSU Global Campus program manager who oversees the Public Health online degree completion program. "For one, it gives you access to knowledge in the area of study you choose by learning from instructors and gives you the opportunity to put into practice what you learn immediately that you can use in the real world. Another benefit is it helps build community with your fellow classmates where you can share ideas and be enriched by others."
In addition to managing the public health degree completion program for Global Campus, Salgado completed her Bachelor of Science in Business Administration and a Master's in Education online through SDSU Global Campus.
"I truly believe education opens doors that otherwise wouldn't open in your career path," she said of earning her degrees online.
What is a degree completion program?
A degree completion program is designed for non-traditional undergraduate students who previously earned college credits and want to complete their degrees. These programs generally accept all or some of the credits students earned toward their degrees. This makes degree completion programs a great opportunity for students looking to pick up where they left off in college.
Degree completion programs are offered in a variety of ways to better fit a student's schedule. For example, there are in-person classes for those that want the structure of a classroom setting, but students with busier schedules may prefer online classes which allow for more flexibility while working or taking care of family. There are also some degree completion programs that are offered in a hybrid format, which includes both in-person and online components.
Who can benefit from a degree completion program?
A degree completion program can apply to a variety of different students including:
Students who began their studies at another university or a community college to complete general education requirements before transferring to a four-year university may enter through a degree completion program. These students are able to get credit for the college courses they already completed while continuing their education at the four-year institution.
Unfinished Undergraduate Degree Students
If you started working toward a degree, but then something happened along the way to make you pause your studies, you may be able to pick up where you left off. A degree completion program can be a great way to get you back on track.
As a veteran or a current service member, there may be an opportunity to apply the military education and experience you have toward a degree completion program. Be sure to use your education benefits to re-enroll in the right degree completion program to finish your degree.
Explore SDSU Global Campus Degree Completion Programs
SDSU Global Campus offers more than a dozen degree completion programs across many areas of study, ranging from a Bachelor of Science in Business Administration to Criminal Justice, Economics, Public Health, and more.
Browse our current degree completion programs today to find the program that fits your educational goals.